Alton Elementary is excited to announce that we are seeking one community partner for each of our 20 elementary classrooms for the 22-23 school year. In addition, partnerships are available with special class teachers, special education classrooms, and special programs. Our goal is for each classroom to be paired together with a business, human service agency, or faith based group. Throughout the year, classroom teachers, along with partners, will work with a common goal of ensuring that all students have what they need to be successful. This might include working together to complete community service activities, providing students in need with basic necessities, and ensuring that a teacher has the resources needed to educate his or her students. We are hoping that the idea of taking on one classroom of around twenty students will be more attainable than trying to help all 400 students at Alton Elementary! If your group would like to sponsor a particular class, let us know! We will work our hardest to make this happen! Please note that the emphasis with this project is community connections. Partnering with a class does not have to be something that will cost your group an arm and a leg! The amount of money you spend will be entirely up to your group! We just want to strengthen ties between our students and our community. If you are interested or would like more information, please comment on this post or send us a PM! You can also contact Elementary Counselor, Tonya Willard. Thanks in advance for helping to make sure all students at Alton Elementary have what they need to be successful!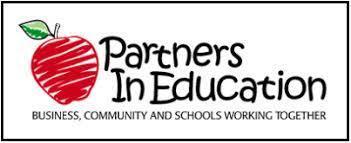 Due to unforeseen technical difficulties, we are unable to email elementary teacher assignments to parents through our system. For this reason, we are releasing this information old school style. If you would like to know who your child's teacher is, class lists are now posted to the front entrance of the elementary. In order to protect the privacy of all students, we do ask that you refrain from posting pictures of the lists to social media.

Elementary teacher assignments were supposed to be delivered today. However, due to a glitch in our system, we were not able to send them out. We are doing everything we can to resolve this issue, and will do our best to send this information out tomorrow. In the meantime, if you have access to the TylerSis Parent Portal, you can view the name of your child's teacher there. We are sorry for this inconvenience.

Families: If you are interested for your child to participate in virtual courses for the 1st semester of 2022/23 school year, our enrollment will take place August 8th & 9th from 8:00-3:00. As a reminder, we use the Launch program through Springfield Public Schools. If you would like to be considered for this, please call the school to set up an appointment with Beverly Goans at 417-778-7215 or by email
beverlygoans@alton.k12.mo.us
. There is an application process and it will be reviewed by a committee to determine if virtual courses are in your child's best educational interest.

The Alton R-IV School District will be hosting a Back to School Fair on Monday, August 8th from 8:00-5:00 in the Multipurpose Building at Alton Elementary. This event is open to any student currently enrolled in the Alton R-IV School District. Attendees will receive all school supplies needed for the school year. Several community organizations will be on hand to offer services including the Christos House, Ozark Action, and the Family Support Division, The Southern Missouri Community Health Center will be offering attendees a free dental screening. Hygiene items will also be available free of charge donated by Unilever. Free haircuts will be offered as well. Students in attendance may sign up for a chance to win 1 of 3 chromebooks donated by the Alton Bank! We hope to see lots of Comets at our fair!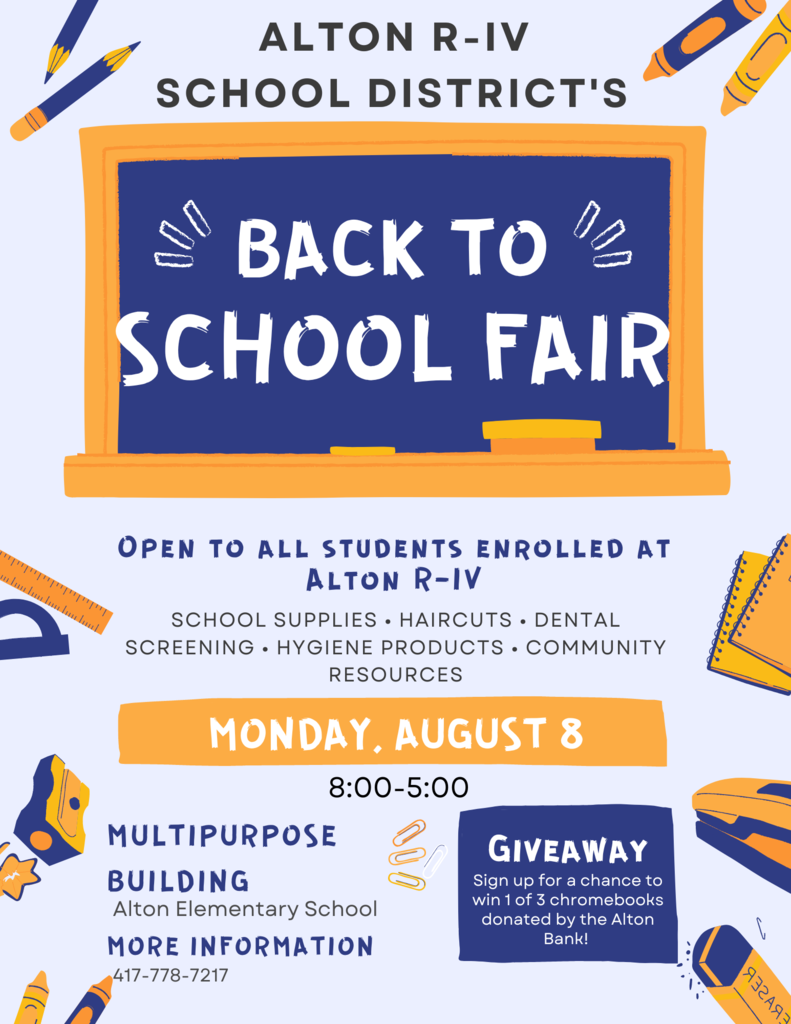 New student enrollment for grades Preschool-12th will take place on Monday and Tuesday, August 8th and 9th. Registration will take place from 8:00-3:00 in each building foyer. Enrollment for grades PreK-5 will be held in the elementary and enrollment for grades 6-12 will be held in the high school. Please bring an immunization record, birth certificate, and proof of residency (utility bill, license, rental agreement, etc.) for all students being enrolled. Parents should also bring copies of any legal documents, such as custody agreements. If you have questions, please contact one of our school counselors. You may also DM the Alton R-IV School District. Grades Pk- 5:
tonyawillard@alton.k12.mo.us
Grades 6-12:
jessijohnson@alton.k12.mo.us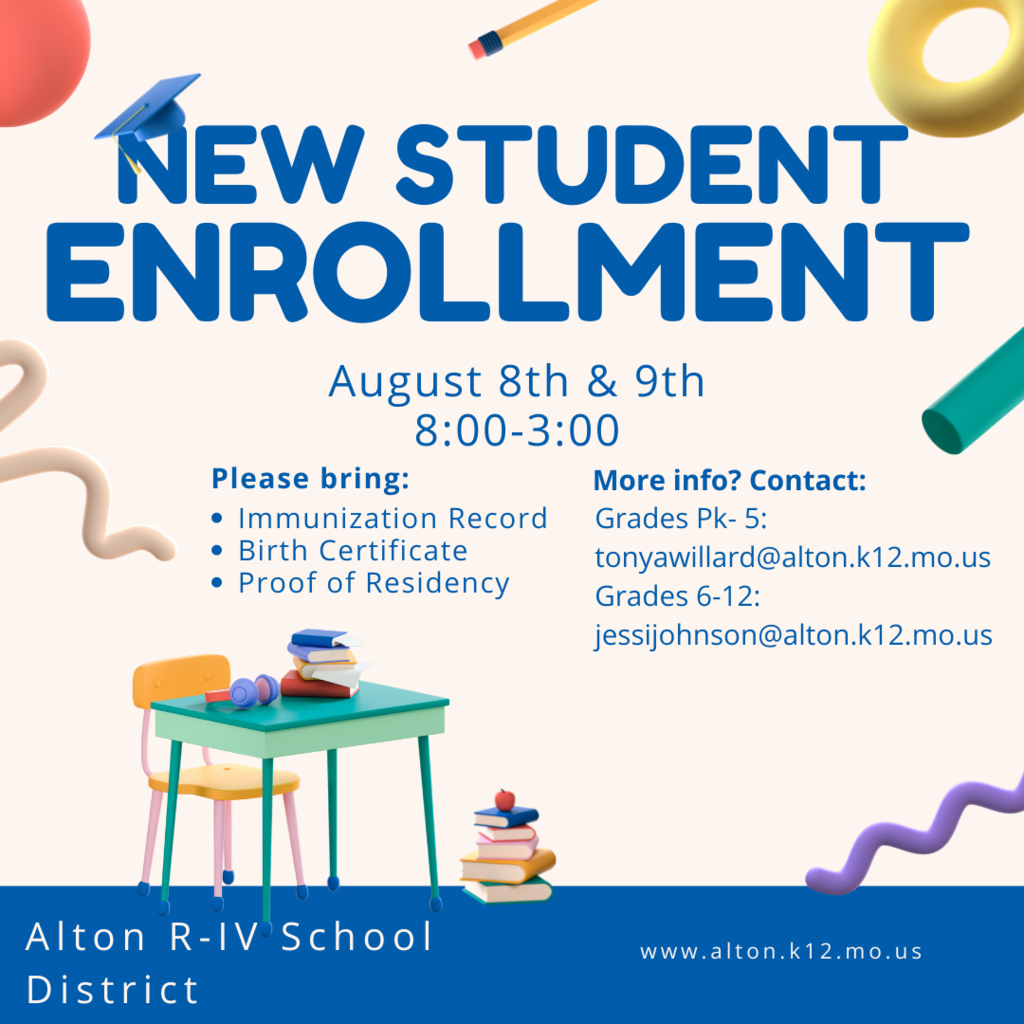 Mark your calendars for our annual Back to School Open House! This event will be held on August 18th from 6:00-7:30. Come meet your teacher and see your classroom! Feel free to bring your school supplies in that night as well. Stop by the tent outside for a hotdog and water provided by the Alton R-IV Board of Education! Orientations will also be going on in conjunction with Open House. Preschool and kindergarten parents should plan to arrive at 5:30 for an informational meeting in the Multipurpose Building. The middle school and high school will also be holding the following orientations in the high school cafeteria: - 6th Grade @ 5:30 - 9th Grade @ 6:15 - 12th Grade @ 7:00 We invite all students and parents to join us for this special event!


It's almost time for the 22-23 School Year! Here is the supply list for our elementary. We will be holding a back to school fair on August 8th. Be watching our Facebook page for further details about this event in the near future!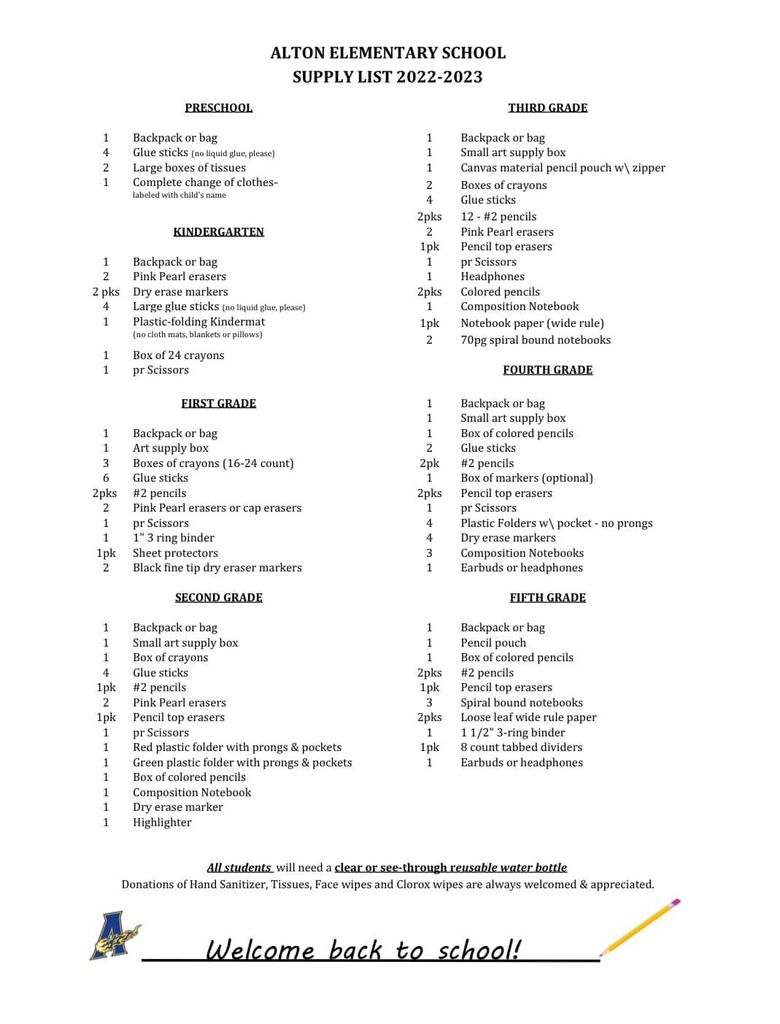 Please share!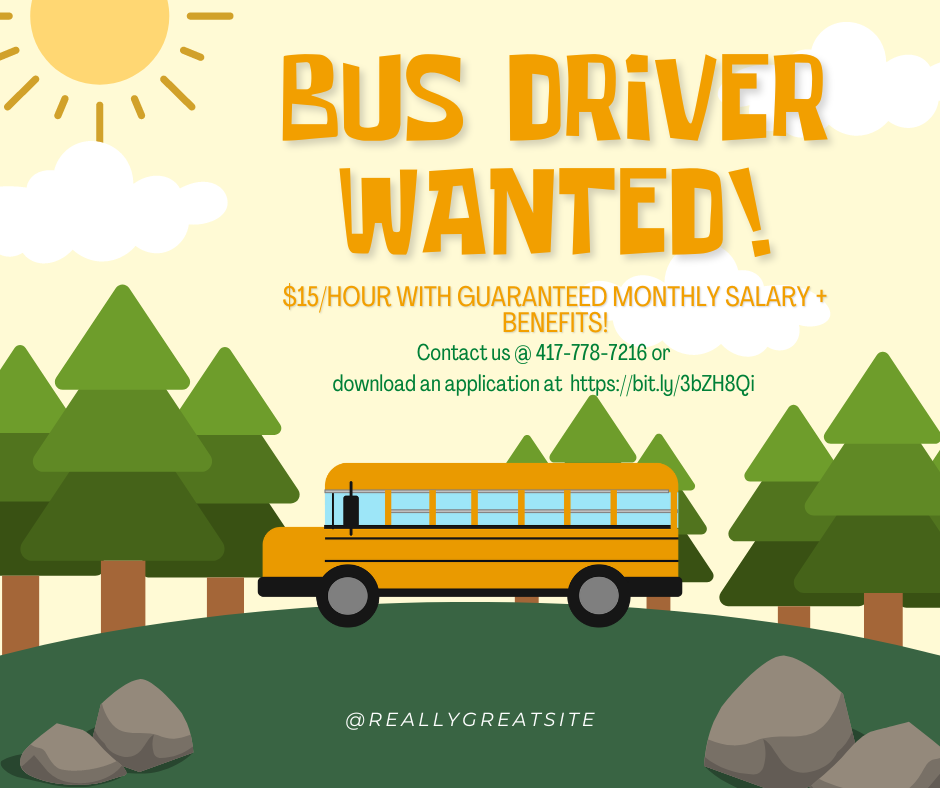 For all Alton School District stakeholders, please take a few minutes to answer the survey regarding the continuation and preparation of the Continuous School Improvement Plan (CSIP). We are grateful for your support. It's a great day to be a COMET!
https://forms.gle/EA6ABbMeQwNAnQwD6
2022-2023 Vaccination Reminder: If you have a student going into 8th grade they will need a Tdap and MCV vaccination or exemption on file with the school BEFORE the first day of school. If you have a student going into 12th grade they will need their 2nd MCV vaccination or exemption on file with the school BEFORE the first day of school. Please make sure to notify Leslie Weyland RN School Nurse as soon as your student receives the vaccination or provide an exemption form.

Come join the Alton R-IV Superintendent, Dr. Julie Williams on July 12, 2022, at Cornfed Rascal at 7:00 AM to hear the great things she has planned for back to school! Dr. Williams will even pay for your coffee! All community patrons welcome!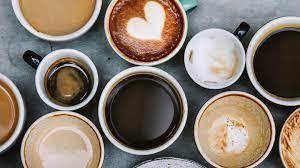 This past week we said goodbye to our superintendent, Dr. Eric Allen. While Dr. Allen was our superintendent he worked diligently to ensure raises were always awarded to the employees, fought for our Federal Forest money that we were in jeopardy of losing, and always listened to employee concerns. His love for the district did not go unnoticed. Thank you, Dr. Allen for leading us. You will be missed!

Are you at least 16 years old and wanting a great job? Alton R-IV is looking to hire a teen this summer! For more information, please contact Dr. Julie Williams at
juliewilliams@alton.k12.mo.us
or 417-778-7216. We would love to hear from you!

Be sure to coordinate your student's FREE sports physical before school starts! Below are options available from Ozarks Healthcare. 👇🏻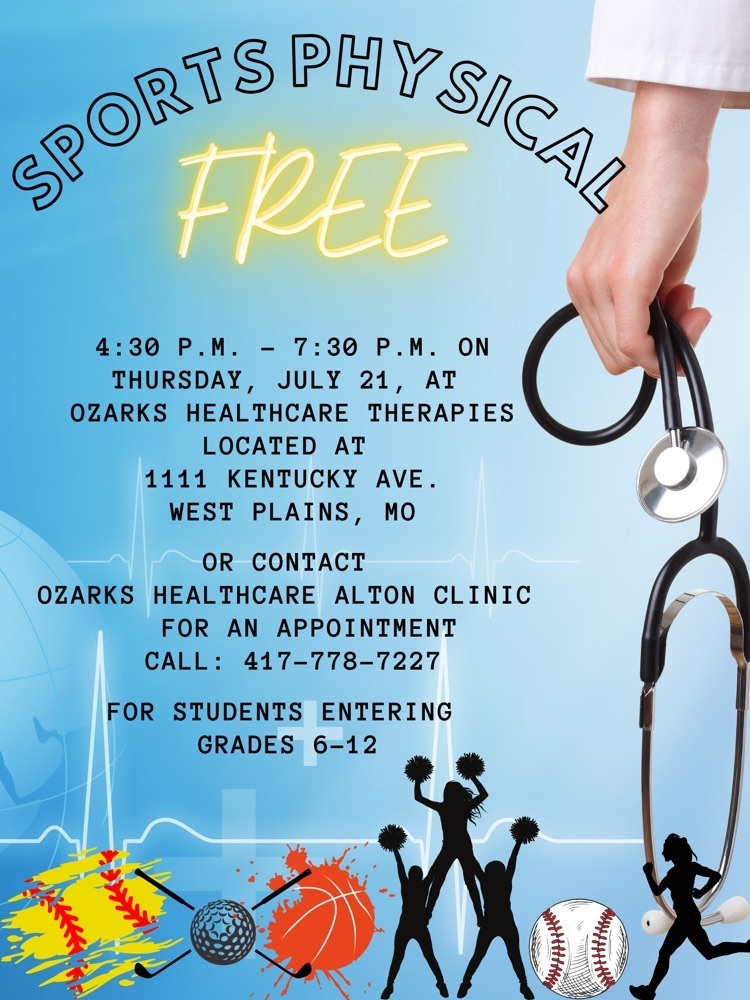 Alton R-IV is accepting applications for the positions of cook and custodian. For more information contact the superintendent's office at 417-778-7216 ext. 1240.

It's almost show time! 🐄 🐖 🐐 🐑 Alton Comets of all ages are gearing up for the Howell County Heart of the Ozarks Fair in West Plains. Students (and parents) have spent countless hours investing time into their livestock projects to prepare for this event. Showing begins Monday morning at 8am and the live auction will be held Tuesday evening starting at 6pm. Animals are on display for your viewing any time these two days. We hope to see you there!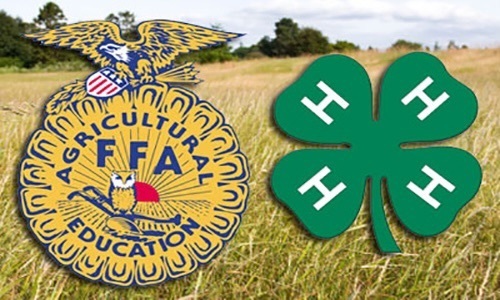 Dr. Julie Williams has been named the Superintendent of Alton R-IV School District effective July 1, 2022. "For 31 years, I have dedicated my life to public education," said Williams. "I truly believe it is a duty to give back to society and to engross ourselves in the community in which we serve. My greatest passion is to advocate for rural schools and for the impoverished students of Missouri. It has been said, 'If kids come to us from strong, healthy functioning families, it makes our job easier. If they do not come to us from strong, healthy, functioning families, it makes our job more important.' I will continue to advocate for equitable access for Missouri students so each may find success regardless of their background. My father, my siblings, my children, and I all attended Alton R-IV schools. I am grateful for the excellent education we received and have endearing memories of Oregon County. I am excited to share my experience as I team with a new district and look forward to my future in Alton." Please join us in welcoming Dr. Williams back home!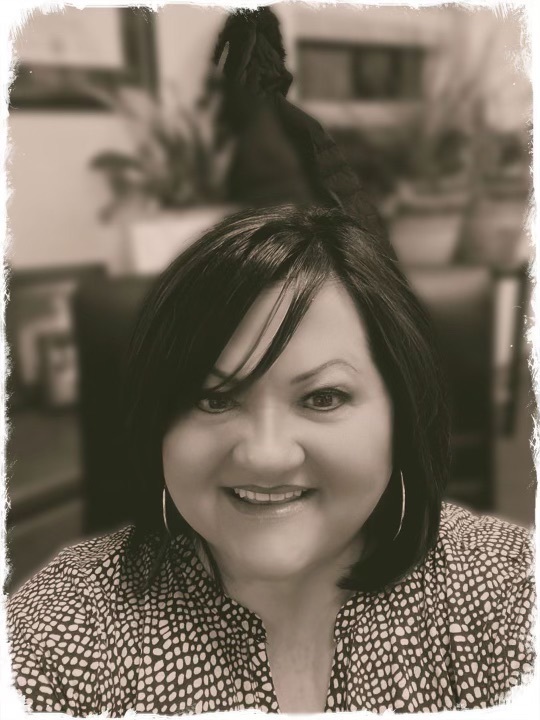 Summer School Starts May 31st! All students will receive free meals! We hope to see you there!