Alton R-IV Covid Protocols Update (Adopted at the October 14, 2021 Board Meeting). Our primary goal is to provide a safe and healthy environment for our students and staff. Our efforts have been defined based on recommendations of state and local health departments and the CDC. Guidance will evolve as new information and recommendations become available. A mask is considered to be a device that covers the nose and mouth. Shields are not considered acceptable.We follow the CDC guidelines for masking. For more guidance visit:
https://www.cdc.gov/coronavirus/2019-ncov/prevent-getting-sick/about-face-coverings.html
All Alton R-IV students (grades preschool-12th) and staff will be required to wear a mask, if/when a mask mandate is enacted. It will not matter if you are vaccinated. All students and staff will be required to wear a mask when riding a school bus. This is a Federal regulation and has not changed with this update. Disposable masks will be provided upon request for both students and staff members, if needed. Masks are not required when at recess, P.E., or meal time. Masks are not required to be worn at public events (plays, ball games, choir performances, etc.). If the number of quarantined students/staff drops below 5% of the student/staff campus population for a two week observation period, the mask mandate will be lifted. However, the mask mandate will be reinstated if the number returns to 5% or more of campus individuals in any two week window of time. Alton R-IV has gone below the 5% of the campus population being impacted by COVID though quarantine or a positive test for the most recent two week period, thus beginning Monday, October 18, 2021 masks will not be required. The mask mandate will be subject to being reinstituted if/when the data meets the outlined 5% criteria.
We have been made aware of a social media threat of violence against Alton High School----in Alton, Illinois. Our Administration has been in contact with the Alton, Illinois School District and confirmed this matter originated and is related to that School District, and not directly related to Alton R-4 High School in Alton, Missouri. The Alton R-4 Administration and School Resource Officer, along with Local Law Enforcement will be continue to be vigilant and proactive in our monitoring of, and response to, any student safety concerns on the Alton R-4 Campus. Dr. Eric Allen Superintendent Alton R-4 (in Alton, Missouri)

Thank you to all of the amazing individuals and businesses who have helped support our Book Fair this week! We have received donations from Young's Produce, Kristie Rackley, Terry and David Collins, and T and L Supported Living! Thanks to you all, many of our students who would not have been able to purchase items at the book fair have walked away with a brand new book! *Fun Fact* Scholastic matches all monetary donations made to our book fair! When you donate money to purchase a book for a student, Scholastic matches that money and gives it to our library to buy books for our students. Scholastic also donates to 5 different charities. The amount is based on the amount of donations we receive at our book fair. This means that when you donate to our book fair, you are helping put books in the hands of students all across America! If you are interested in sponsoring one of our elementary classes by purchasing a book for each student in the class, please call the Alton Elementary Office or message Amy Janes! Our book fair runs through this Friday, October 15th.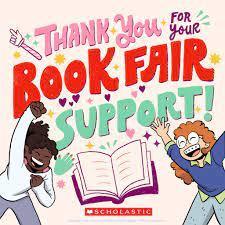 There will be no Open Library Tuesday, October 12, 2021.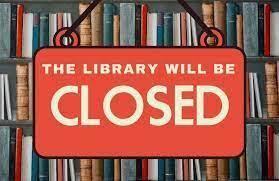 Reminder: Alton Elementary PTO Meeting will be held Monday, October 11, 2021 at 5:00 p.m. in Mrs. Robin Holman's classroom.

Red Ribbon Week at #AltonElem! October 25th-28th Drug Free Looks Like Me!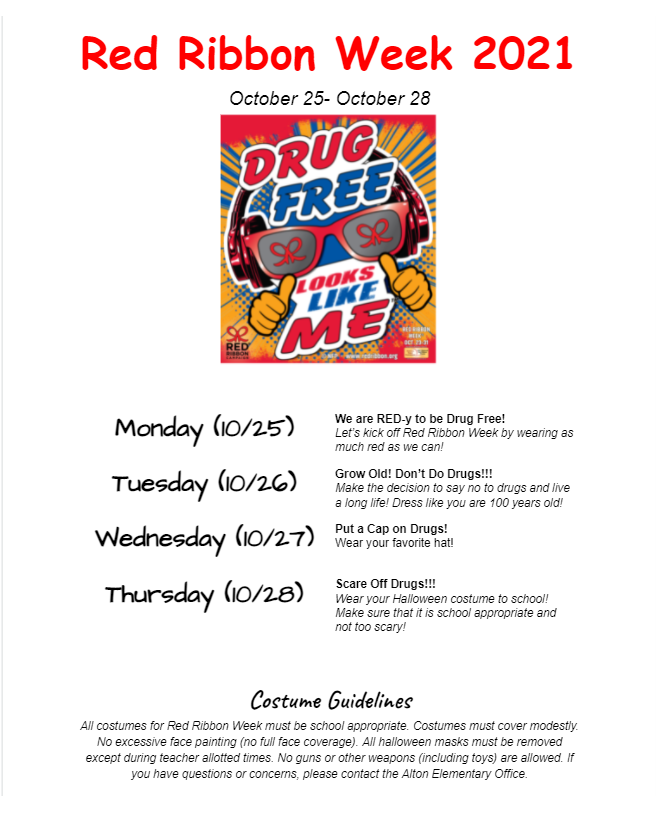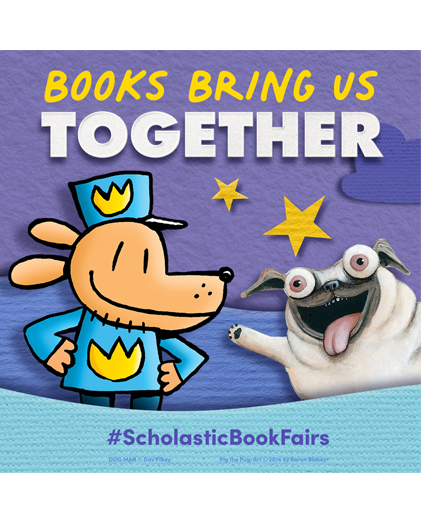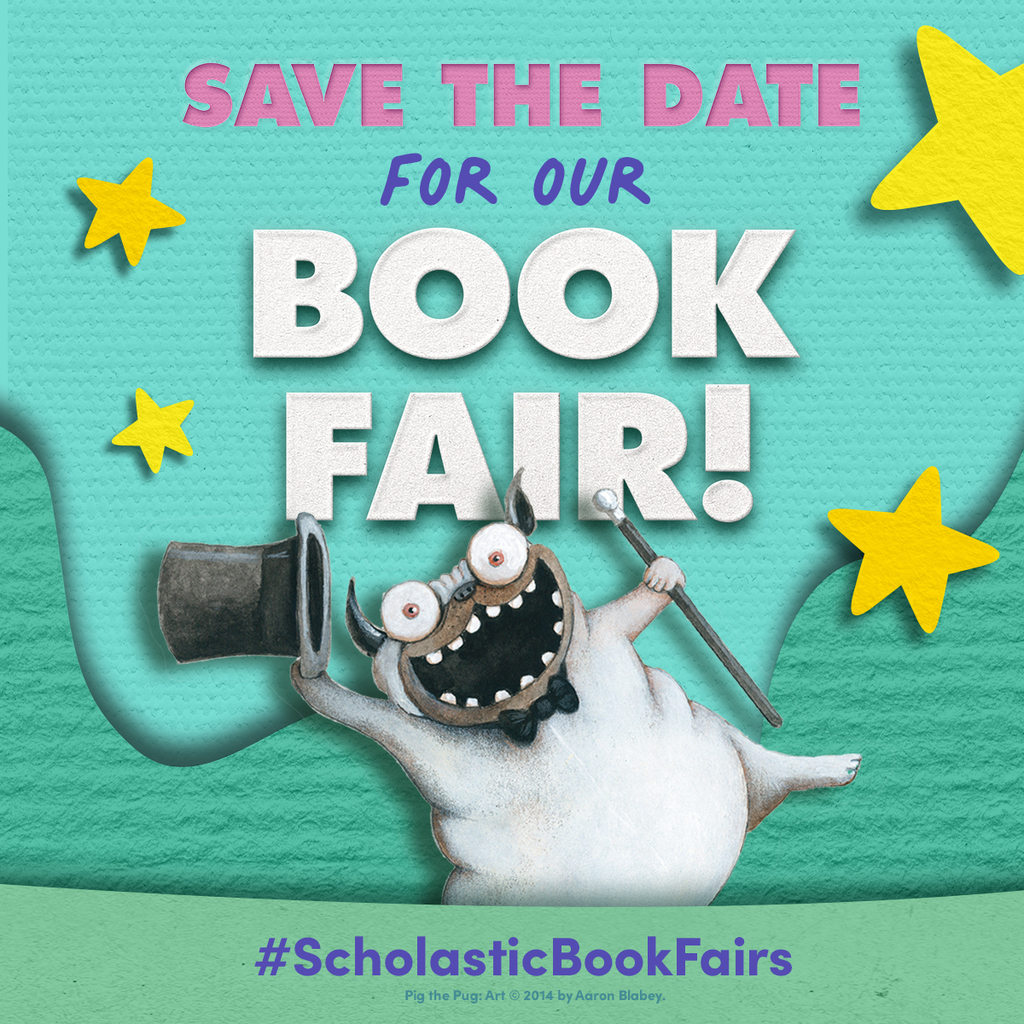 Thank you to Alton Burger Palace for treating the JH Lady Comets to a free ice cream cone before their basketball game in Winona! We appreciate all that you do for our school!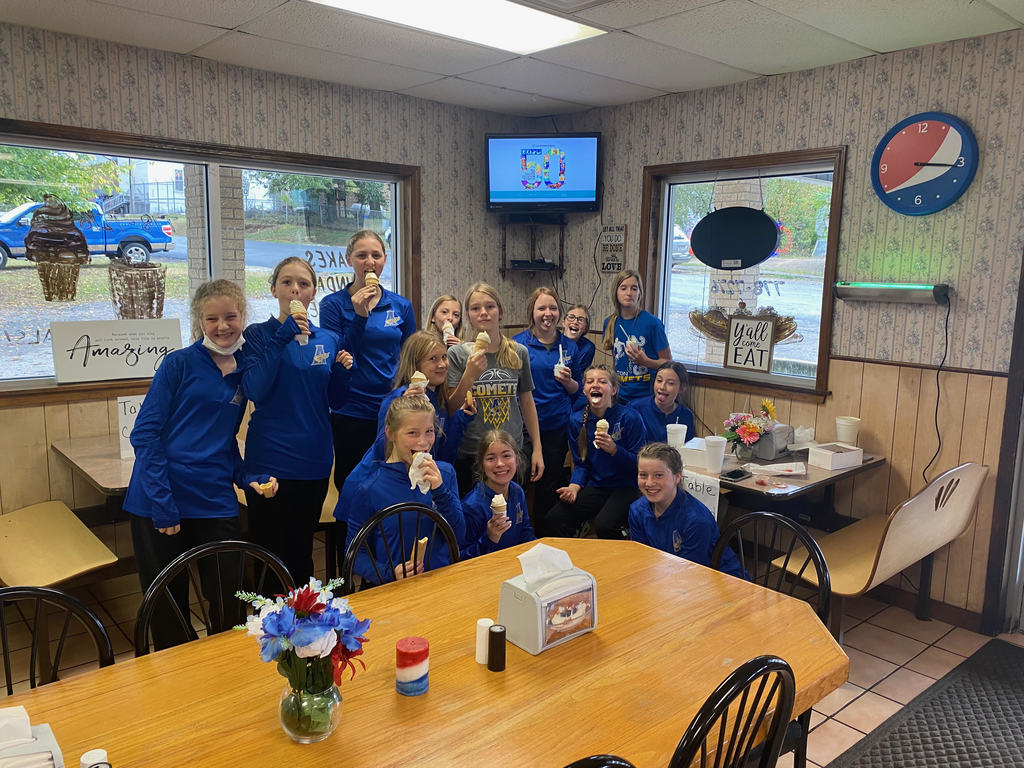 Progress 1 grades have been emailed to all parents with an email address on file. Please take time to review your child's grades. If a grade is blank for one of your child's classes, it is because your child has missing work due to quarantine. This missing work is not being counted against your child at this time. If you have questions or concerns, please contact your child's teacher. The first quarter ends on October 15th.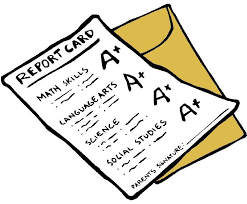 Alton Junior/Senior High School is now offering tutoring to its students. Any parents interested in having their student or students tutored by a junior high or high school teacher, can email Lisa Thompson at
lisathompson@alton.k12.mo.us
or call the school and leave a message with the office for Mrs. Thompson. She will then coordinate setting up a tutoring schedule with the teacher and the student.
Attention Alton Elementary Parents: We had our PTO Cookie Dough Fundraising Kick-Off today so your PK-5 grade students will be bringing home cookie dough order forms. Please read the information on the packet regarding safe selling tips and online order processing. Check the Alton R-IV School District Facebook page for a step-by-step process in setting up those online options. If you have any questions, please contact Robin Holman or Jerri Williams.

Alton R-IV plans to recognize our various groups of employees and departments as the 2021-22 school year moves along. If any businesses or individuals in our community would like to sponsor or otherwise help recognize a certain segment of our faculty and staff, please send an email to
ericallen@alton.k12.mo.us
for details and dates. The various categories for employees would be: Teachers, Food Service, Transportation, Custodians, Secretaries, Health Professionals, Counselors, Technology, Security, Paras, and Substitutes. Thank you in advance!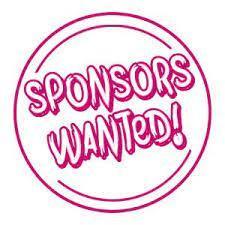 Please join us in welcoming Officer George "Joby" Hoopes as our School Resource Officer. Officer Hoopes comes to us with a strong background in public service and management. He started out as a West Plains High graduate and obtained a degree from the National Education Center in Phoenix, AZ. He has worked for the Howell County Sheriff's Office as a sergeant, criminal investigator, deputy and jailer, the Texas County Sheriff's Office as a detective and deputy, the South Central Drug Task Force as an investigator, an animal health officer for the MO Dept. of Agriculture, and was most recently a deputy/investigator for the Oregon County Sheriff's Office. He holds various certifications through the Missouri Sheriff Association Academy, Missouri Police Chiefs Association, and Missouri State Highway Patrol Academy. Officer Hoopes has three children and he and his wife live in West Plains. We feel very fortunate to have him working to protect and make a difference in the lives of our staff and students.

School Pictures are TODAY!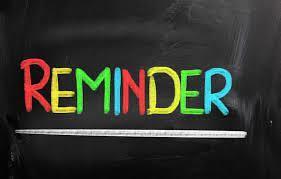 Families: Please take time to read the information below about school pictures that take place TOMORROW. A copy will also sent home with each student today. We appreciate your understanding in this matter.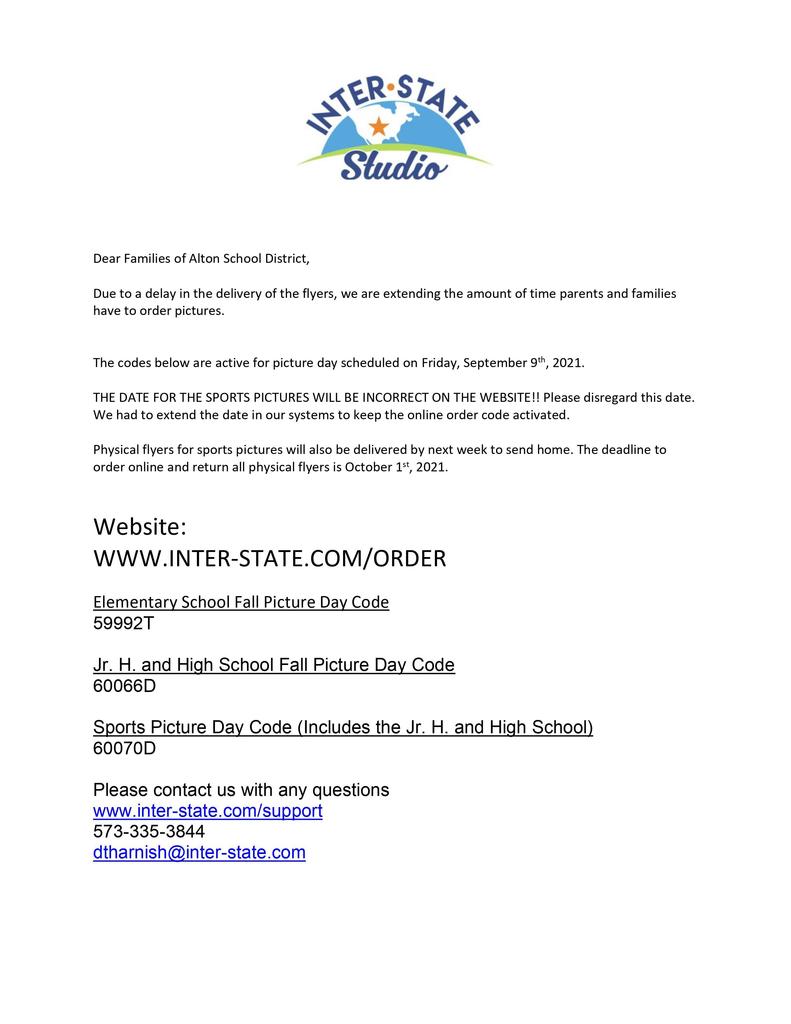 What: Open Library When: Every Tuesday from 3:45-5:00 Where: Alton Elementary Library

Reminder!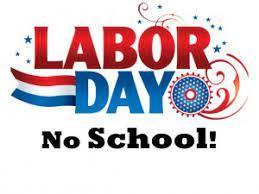 Don't have 60 college hours to be a teacher sub? No worries. There is now an option to be a teacher substitute by completing a 20 hour training online. This option will become permanently available at some point in December. Stay tuned to this page for more updates.
https://dese.mo.gov/educator-quality/certification/substitute-teachers
If you sub at Alton you will receive $100/day!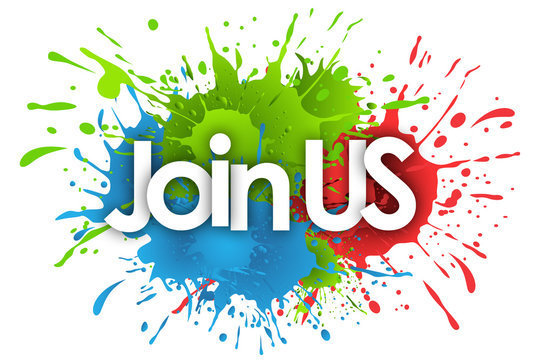 FAMILIES: Our picture order forms have still not arrived. We anticipate having them here by Tuesday. Pictures will STILL be on the 10th. We appreciate your patience with us on this. Please remember that you have the option to order your pictures online once you get the code from the picture form.