Calling all teacher subs! We need you this school year! We currently pay $100/day or $110/day if you are a certified teacher. Stop in at central office to obtain an application. We'd love to meet you! (please share!)

Meet Mr. Doug Staton, elementary special education teacher! Mr. Staton attended high school and college in Iowa. Mr. Staton retired from teaching in Arizona as an English Lit., AP, and Honors teacher. He most recently worked in Alton at Central Ozark Machine. He is most proud of his children and loves to build guitars, coach roller derby, and convince people! He has two kittens and would not change one thing about his life. His favorite holiday is Easter and Jesus inspires him. His favorite memories are dreams that his parents are in. When he was a child he hoped to be a rockstar someday. If he could have a career in anything he would stick with teaching! The historical figure he would most like to meet is Ludwig Wittgenstein. Three items he would take to a deserted island are a guitar, a copy of Tractatus Logico-Philosophicus, and a photo of his wife. We are so excited that Mr. Staton wanted to come back to teaching!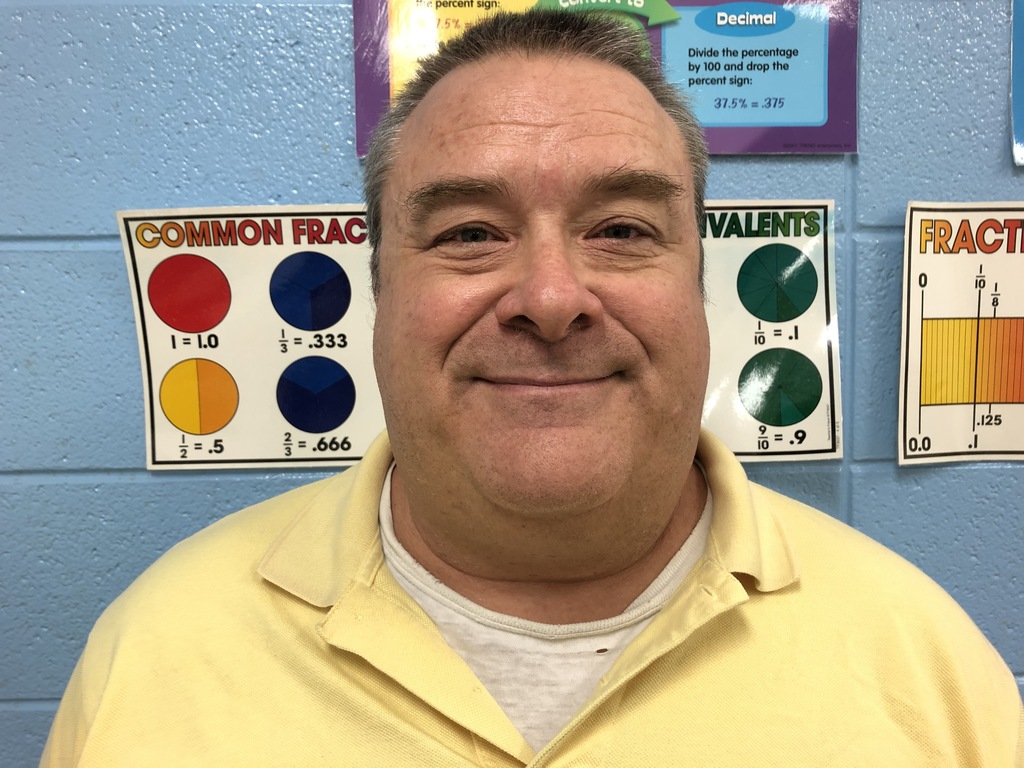 Here's a face that many of you know! Meet Mrs. Brenda Ledgerwood, high school special education teacher. Mrs. Ledgerwood is an Alton High graduate as well as a graduate from Ouachita Baptist, Arkansas State, and University of Missouri. She and her husband, Keith, have two kids, Betsy and Patrick. They have seven wonderful grandchildren. She retired from Alton many years ago as our high school counselor but felt led to come back to the profession! The best concert she ever attended was Casting Crowns and Carole King/James Taylor. She loves traveling so much that she drove to Alaska! The best place she has visited is Mt. Rainier. The most exciting part of her job is learning from her students as they learn. Her favorite movie is Castaway and favorite food is Panera Strawberry Poppyseed salad and any kind of soup! If she could change one thing about her life it would be to not have grown old so quickly. Her biggest fear is getting bitten by a snake with her foot hanging off the bed. :) Her least favorite chore is cleaning toilets and favorite thing to do on the weekends is ride the country roads. If she could have had a career in anything it would have been to be a physician. The three items she would take with her to a deserted island are a knife, a raft, and a volleyball. We are excited that Mrs. Ledgerwood is back to make another impact on a new generation of students!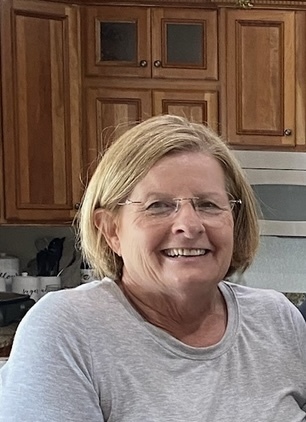 Meet Mrs. Ashley Hollis, second grade teacher. Mrs. Hollis is an Alton High and Southwest Baptist University graduate. She and her husband, Randy, have a little girl named Kaelynn. Prior to teaching she has worked at the Oregon County Assessor's Office, Style & Grace Boutique, and Shepherds Treehouse Daycare. She has two dogs; Buster and Daisy. She loves contemporary Christian and country music. Her favorite holiday is Thanksgiving and her favorite season is Fall. She loves to curl up in her chair at home and binge watch a good show, but she also loves getting out and exploring some beautiful , scenic sites. She loves to travel and the best place she has visited is Israel. We are so excited about having Mrs. Hollis with us. Please welcome her!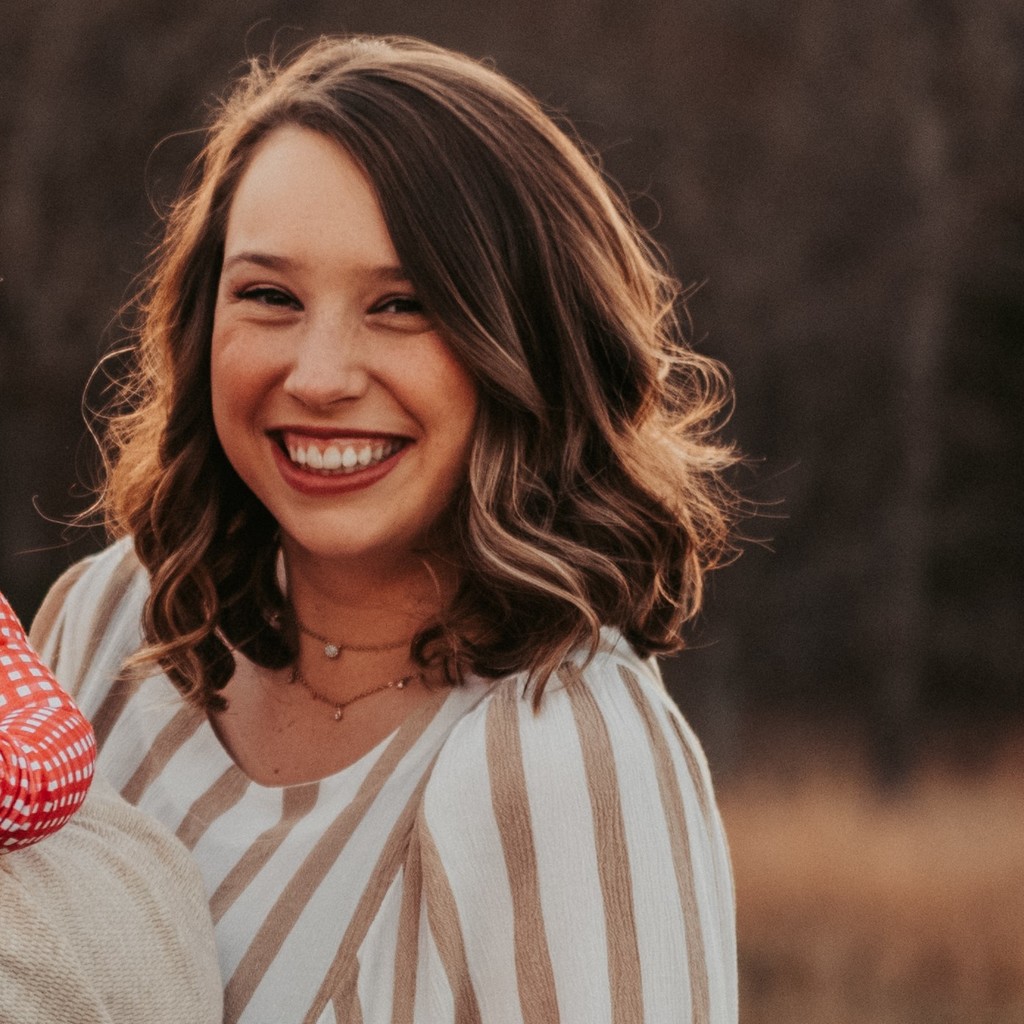 Elementary Parents: This year we want to provide the option for parents of Preschool, Kindergarten, and 1st grade students with the opportunity to walk their child or children to class on the first day of school. We will have high school students from our Open Arms Project available at Parent Dropoff and at the front door to help, if needed, with getting the older elementary students in the building and to their classrooms. The Open Arms Project students will be available on Tuesday as well to help with students getting to their homeroom.

Meet Tonia Exum, High School Special Education teacher. Mrs. Exum is a '97 Alton High graduate and earned her college degree at College of the Ozarks. She is married to her husband, Shannon, and they have two girls; Ellie-10 and Callie-7. Prior to going into the education field, Tonia owned and operated a daycare for 16 years. She has been subbing at Alton R-IV for the past 3 years. Her favorite food is chicken and favorite movie is Steel Magnolias. Her biggest fear is snakes and her passion is baking. She wouldn't change anything about her life and says that she thinks God puts you right where you should be in your life. We are so excited to have Mrs. Exum at Alton R-IV!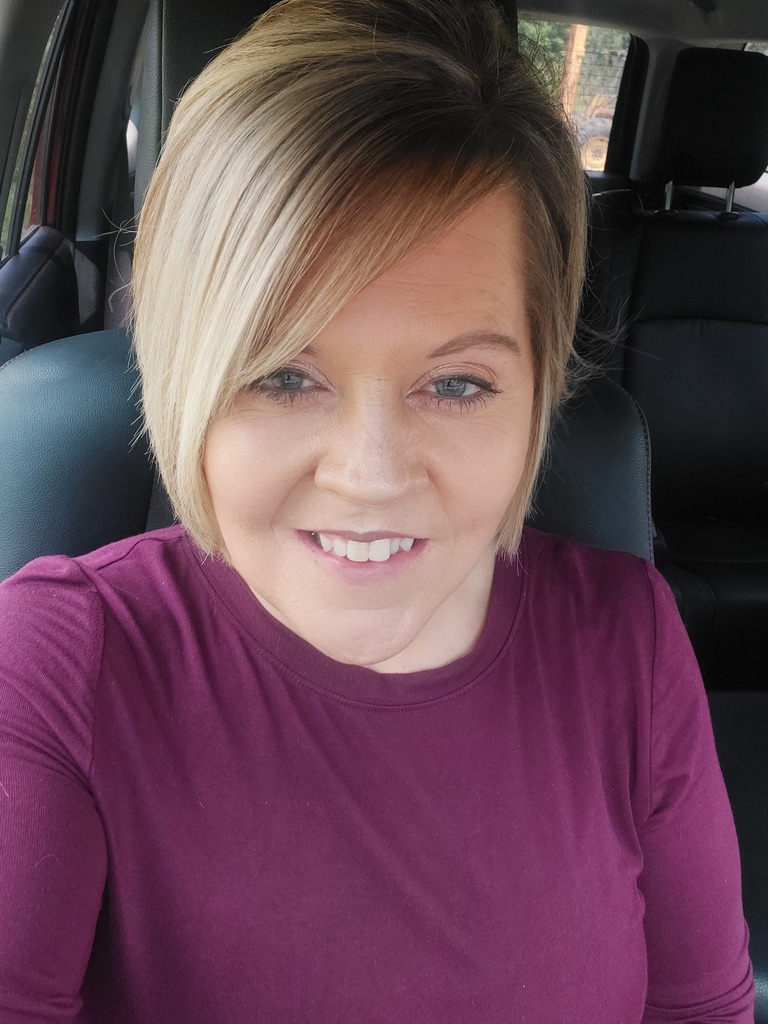 Please read the updated guidance about COVID 19 and masking.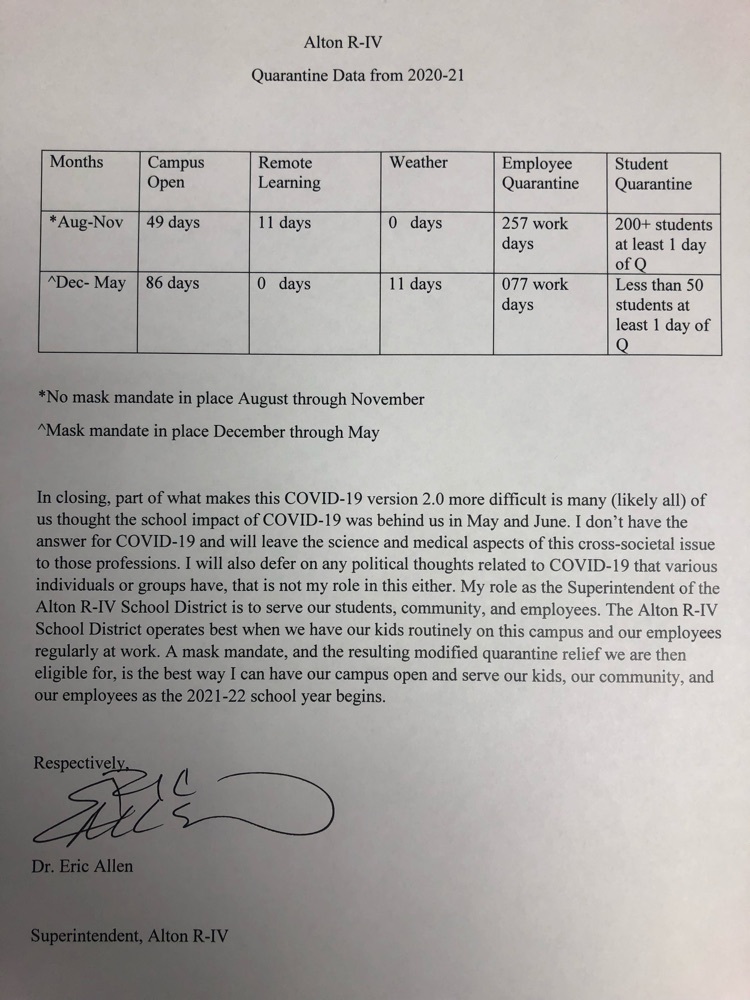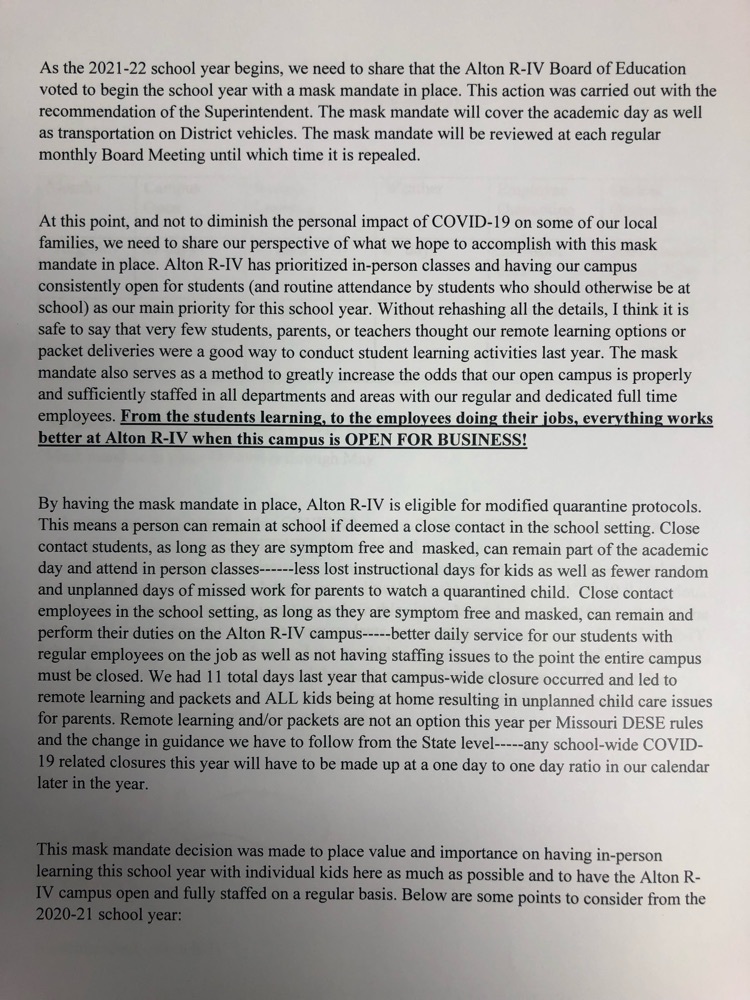 Tuesday, August 17th is Open House at Alton R-IV! It's drop in from 6:00-7:30PM. Here's a schedule of the evening's events: 4:30 PM- ESSER III Public Comment Meeting in MPB 5:30- PK and K Orientation in MPB 5:30- 6th grade Orientation HS Cafeteria 6:00- Title One Annual Meeting MPB 6:15- 9th grade Orientation HS Cafeteria 7:00- 12th grade Orientation HS Cafeteria We can't wait to see you!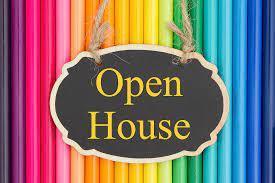 Elementary teacher assignments have been emailed to parents. If you did not get this email, please check your spam folder. The email will be from Tonya Willard. If you still cannot find it, give us a call at 417-778-7217.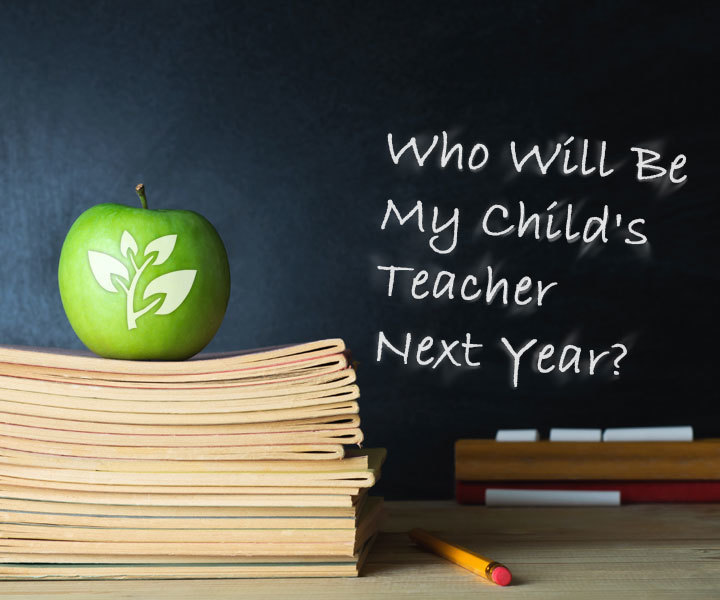 School supply list for 2021-2022 school year! Teachers and staff are getting excited about students coming back to school. We've missed you all!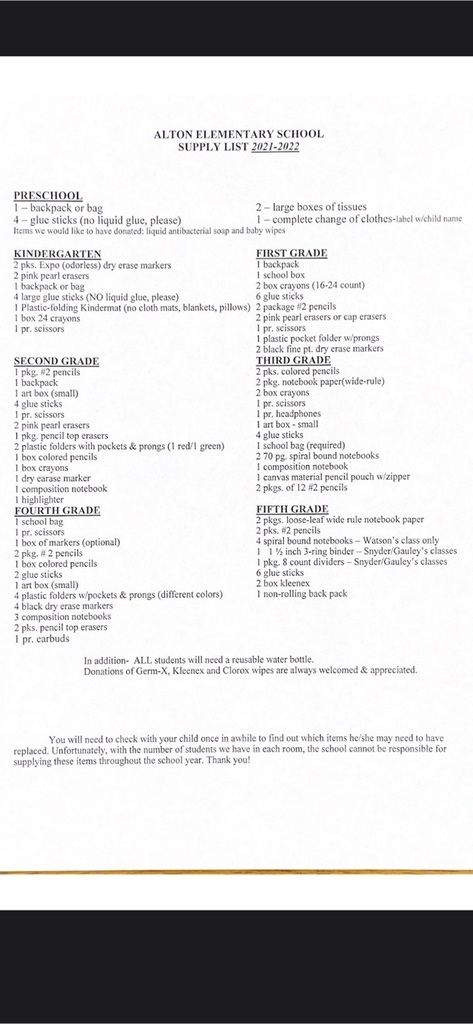 Immunization reminder for the 2021-2022 school year. All 8th graders will need to have a Tdap and MCV vaccination or exemption. All 12th graders will need to have a second MCV vaccination or exemption. Proof of these vaccinations or exemptions will need to be turned into the school by the first day of school or your student will not be able to start classes.

One last reminder about Summer School forms: If you have a student needing or wanting to attend, please come by the elementary office to complete a Summer School form to get students enrolled. We want to make sure that we have planned for any student wanting or needing to be here. For elementary students, any student who attends 12 of the 17 days before June 23 and does not have discipline referrals will be welcome to go on our field trip to WonderWorks Branson on June 24. It is the new STEAM experience in Branson.

Everyone deserves a voice. At Alton R-IV, Mrs. Reagan Clark is responsible for providing a voice for each of our students. Reagan stays busy working as the only Speech and Language Pathologist in our district. She has an amazing gift and we are truly blessed to have her here serving our students. Her expertise is apparent each time she works with our students. She has a heart of gold and truly cares deeply about her students. She works hard to help them reach their goals. Thank you, Mrs. Clark, for making a difference one WORD at a time! #NationalSpeechPathologistDay #BlessedWithTheBest #AltonRIV

Elementary grades were emailed out this morning. Please check your spam folder if you have not received them. In addition, a paper copy will also be sent home with each child. Your child will be promoted to the next grade level unless the school has contacted you personally about grade continuance. Please contact the school with questions or concerns.

Our last day of school is Wednesday, May 12th at 1:07 PM! Our 2021-2022 school calendar can now be found under the Documents section on our website. Have a wonderful summer!

Due to the current weather conditions, including audible thunder, and future radar, we are going to have to cancel the field day events for the afternoon. Again, second and third grade field day events are cancelled for this afternoon.

It is a little soggy, but fourth and fifth grade field day is on for today at 1:00 on the baseball field. Please remember that parents and guests need to sit outside the fence. If parents want to check students out once completed, please let students return to the classroom and check out through the office.

Unfortunately, because of the wet fields, Kindergarten and First Grade field day will be cancelled. We will monitor the field and see how it looks for Fourth and Fifth grade events for tomorrow.

Summer School 2021 will be held June 1 through June 25. If you have any student that will be attending, please get their forms into the office as soon as possible for planning purposes. We want to ensure that we have enough teachers to serve the students who are coming. Deadline is Friday, May 7. Remember, no transportation is provided, but meals are free for any student attending. We have MANY fun things planned for the elementary students, and a decision regarding the mask mandate will be made at the May Board meeting.

BOGO