Even though it wasn't a traditional Christmas Program, the students enjoyed singing for everyone today!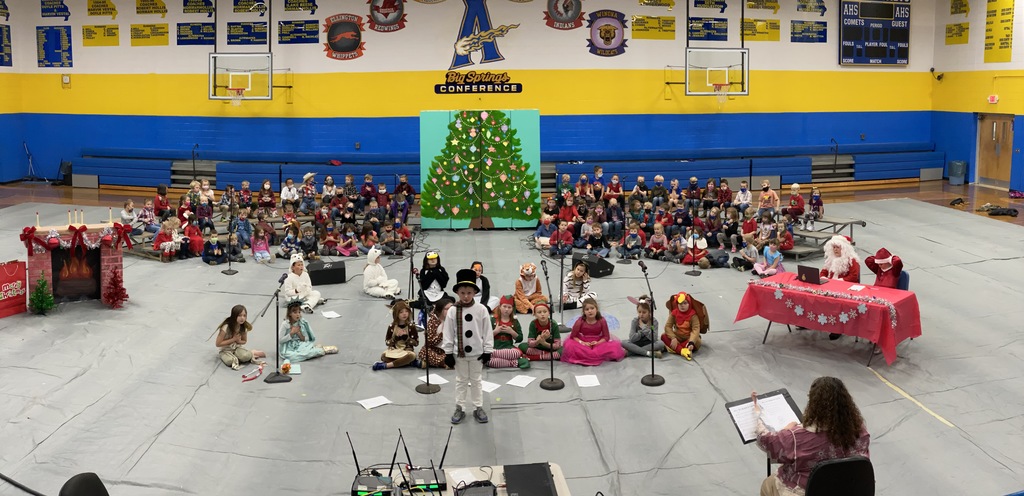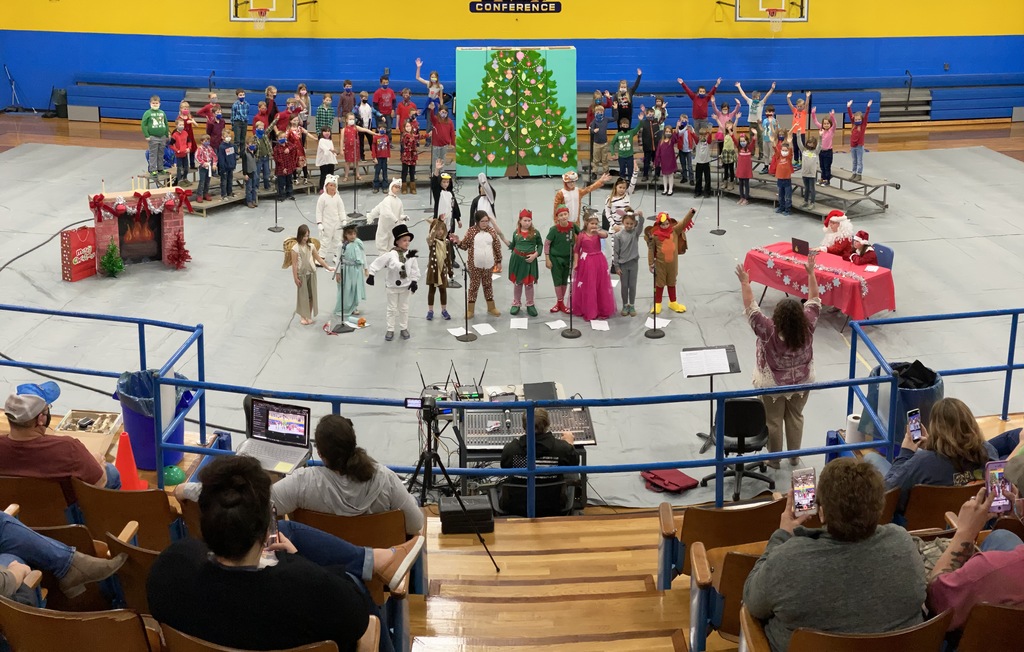 Elementary Christmas Program 2020 Kingergarten-3rd.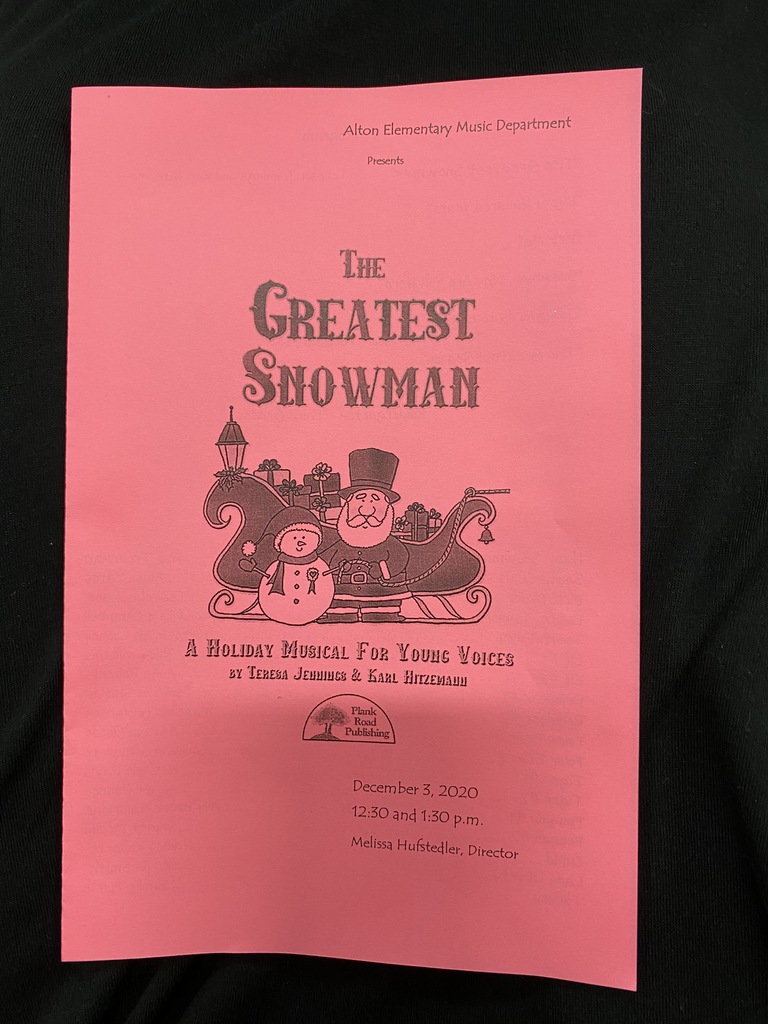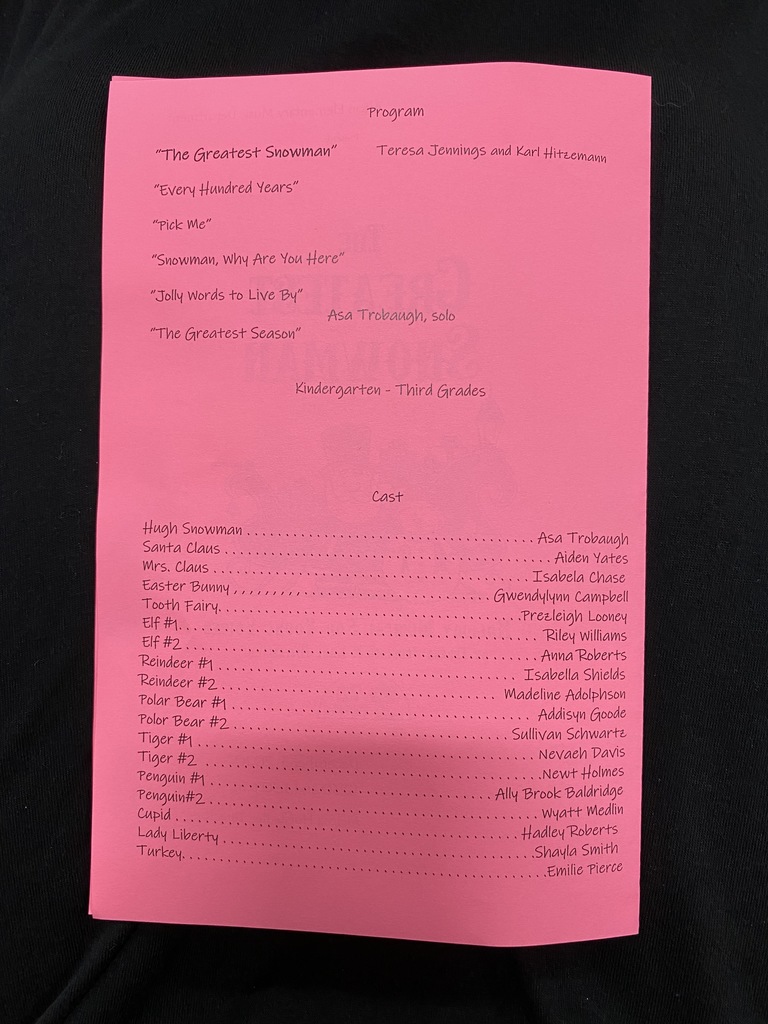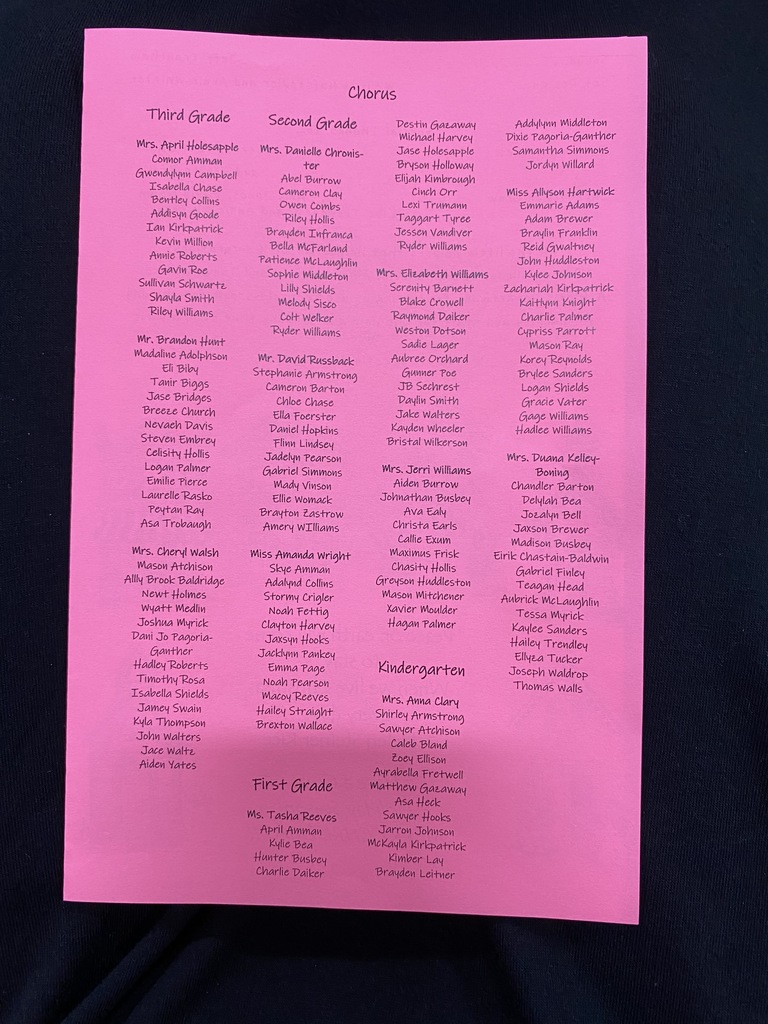 Please see the Facebook post or check the website for information explaining the format for the Elementary Christmas program. Because of the situation with COVID, we are having to make some adjustments to the presentation.

Elementary Christmas Program information for December 3, 2020. This is not an ideal situation for students or parents, but we are thankful that we are still able to provide this opportunity for our students and broadcast this for parents, grandparents and other community supporters to view.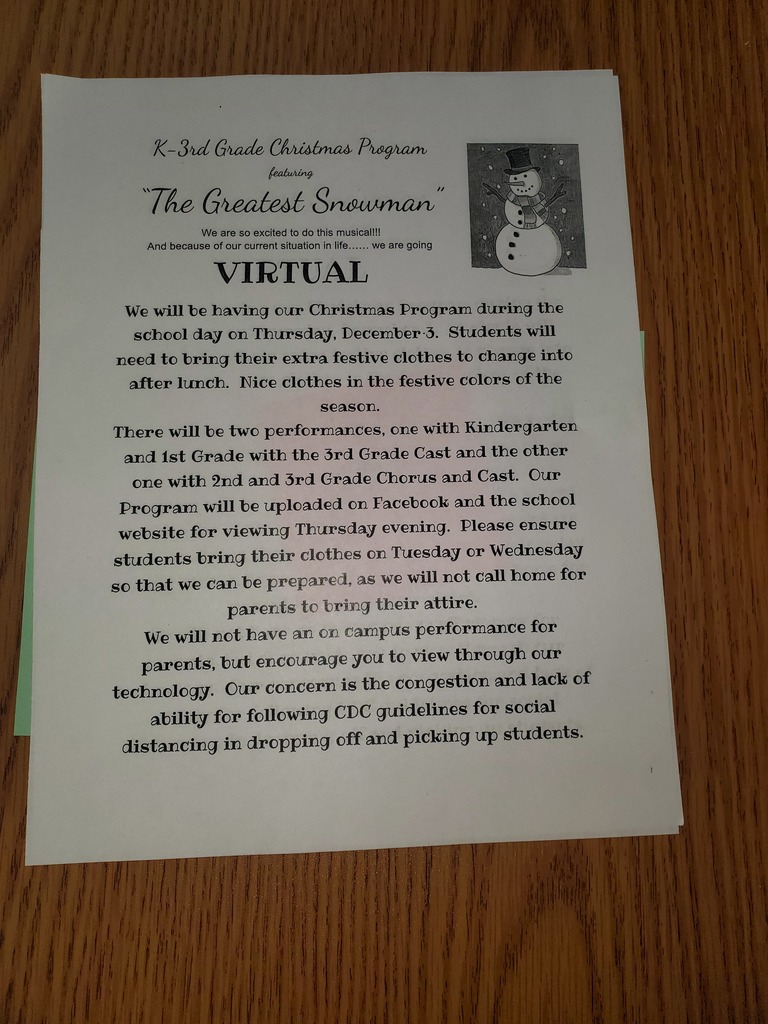 Hey parents! Check out this neat idea! One of our teachers attached student masks to lanyards in order to keep students from losing them during lunch and recess times. We thought this was a really cool idea and wanted to pass it along to all of you! She chose to use the break away style to ensure student safety. Our teachers are the best :)

Below are the basic guidelines for our virtual options in the spring: 1. An audit team will review your application. 2. You will receive the notification of the team's decision within 10 business days. 3. Your child MUST have attended Alton R-IV or been enrolled in a Missouri approved virtual course for the prior semester before being allowed to enroll. 4. Your child's grades the prior semester must be at least 70% or higher. 5. You must have a strong internet connection and a device (other than a cell phone) that has a camera. If you choose to enroll your child in our virtual option for the spring semester, you must schedule an appointment to come in on Tuesday, December 1st. Open enrollment will officially close on Wednesday, December 2nd. To obtain an appointment, please email
hollyreese@alton.k12.mo.us
or contact a building counselor.

Please review the updated mask mandate guidance below. Note that GAITERS are now deemed acceptable. They MUST be 2-ply.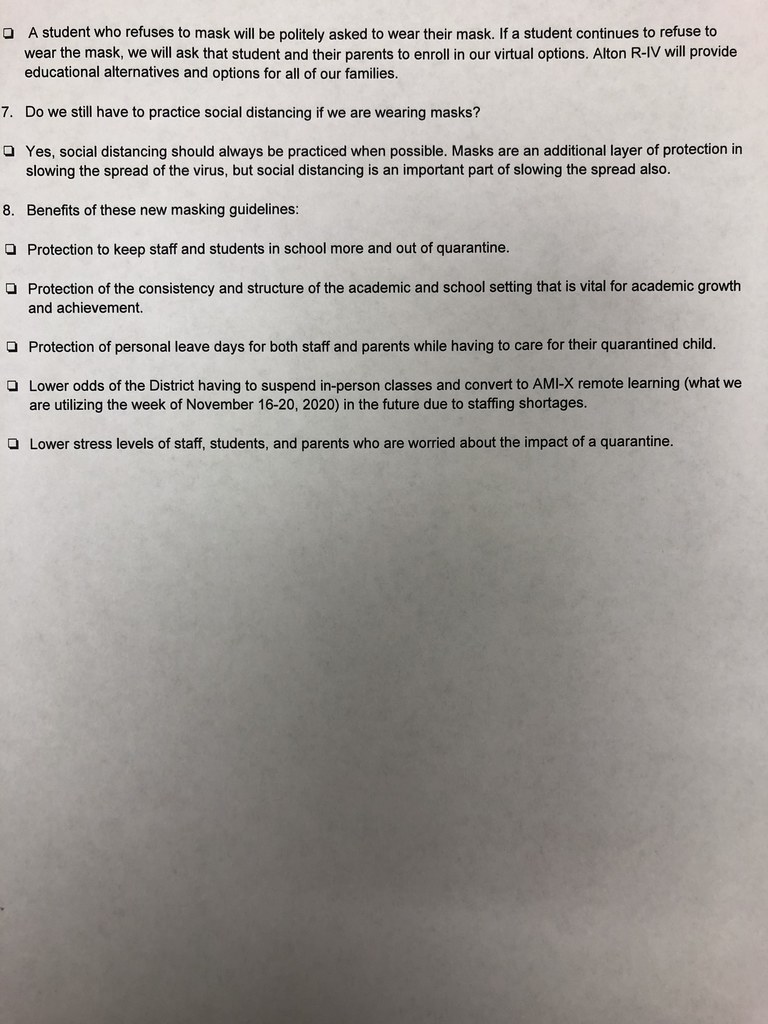 Alton R-IV COVID-19 Update As many of you are already aware, on November 12, 2020, Missouri Governor Mike Parson, MO-DESE Commissioner Margie Vandeven, and MO-DHSS Director Dr. Randall Williams announced new COVID-19 guidance for Missouri Public Schools. The Press Release from Governor Parson can be accessed here:
https://governor.mo.gov/press-releases/archive/governor-parson-announces-changes-states-k-12-school-quarantine-guidance
It has been eight months since COVID-19 first impacted decisions and protocols at Alton R-IV. The COVID-19 matter also seems to have no clear timeline for its conclusion at this point, either related to public schools or our lives in general. I know COVID-19 has directly hurt the personal health of individuals at Alton R-IV and in our community. I also know that COVID-19 fatigue has impacted everyone's stress levels, anxiety levels, and ability to perform what many considers the basic daily activities of life along with hobbies and recreation---whatever those specific details may be for you and your family. Our collective student body has literally lost thousands of days of school attendance so far this year and our employees missed hundreds of days of work this year due to COVID-19 close contact quarantine rules. We have followed MO-DHSS and Oregon County Health Department guidance at all times, and will continue to do so. To date, the required 14 day quarantine for any individual deemed a close contact from the date of last exposure to a COVID positive person has seemed arbitrary and random to many people, especially in the school setting. The protocols for students placed under quarantine orders as close contacts causes many to have irregular and inconsistent attendance. The protocols for employees placed under quarantine orders as close contacts cause staffing issues and inconsistencies in the classroom, as well as other departments on the Alton R-IV campus. I do believe our mission at Alton R-IV is to provide the best and safest in-person education and complete school experience we can for the students of this community. I do not have a perfect answer to the COVID-19 conundrum related to the Alton R-IV School District. I also do believe we are on an unsustainable path as we currently are operating related to the educational days being lost by students and staffing shortages being created by the current 14 day quarantine protocols for individuals deemed close contacts. On November 12, 2020, Governor Mike Parson offered Missouri public schools a path forward with the announced changes in COVID-19 quarantine guidance for close contacts in the school setting. The requirement of school districts in Missouri to be eligible for this less restrictive form of quarantine protocols for close contacts in the school setting is to also have a Board of Education approved Mask Mandate in place and implemented in good faith. At the November 12, 2020 Alton R-IV Board of Education Meeting after considerable discussion and evaluation, I recommended to the Board of Education that Alton R-IV approve a Mask Mandate to be in place when we return to in-person classes on November 30, 2020 and the motion was approved. I do not think this mask mandate is the perfect answer to the COVID-19 conundrum for Alton R-IV or this community. I don't think a mask mandate is a magical answer on its own outside of the public school realm either. I do believe that since March of 2020, when COVID-19 made its way into our vocabulary and daily lives, this 14 day quarantine relief option proposed and offered by Governor Parson is a better path forward for Alton R-IV from now until May of 2021. The alternative was to not adopt a mask mandate and thus, not be eligible for the 14 day quarantine relief the Governor offered and basically to continue down the same increasingly difficult road we have been on since August. As Superintendent, I sincerely believe implementing a mask mandate to garner quarantine relief as outlined by Governor Parson is a better path forward than the road we have been on since school started in August. To be very clear, there is no way to otherwise achieve the quarantine relief as outlined by Governor Parson for our students and faculty than to have a District wide mask mandate in place. This is a very black and white choice, and while not without reservations, I do believe complying with the mask mandate requirement in exchange for the quarantine relief has more pros than cons for our District. To the parents of students at Alton R-IV, to the students of Alton R-IV, and to the employees of Alton R-IV: This new way of doing things provides an avenue to be able to consistently and routinely be on this campus when each individual is otherwise healthy and symptom free (COVID-19 or otherwise). And in addition to just being here, this new way is an avenue to have more continuity and structure and routine in our school days than we have had literally since last school year, pre-COVID-19. More information and guidance on this change will be provided in the coming days. Respectfully, Dr. Eric Allen Superintendent Alton R-IV
AMI-X UPDATE The majority of all AMI-X remote learning materials needed for PK-5th grade students were sent with students at the end of the day on November 12, 2020. Also, all 6-12 grade students were instructed to take home all books and folders and provided school technology (if they needed it) before they left campus on November 12, 2020. Any students absent November 12th or any student that for some reason that did not get all needed items on November 12th will have the following delivery and pickup options available on the schedule below. Where you requested packets to be delivered or picked up during the previous AMI-X session earlier in the school year is where we will pre-sort and take your materials this time---if you think your child still has items to obtain. Not every student and/or family will still need items at this time. Also, any completed work you have to return will be accepted back at these times as well. For students that normally ride a bus: The day your bus route is listed to run below, the bus will leave school at 3:40pm and be to your bus stop at the same time as a regular school day. Monday, November 16 Bus 4 Roxie Shaffer Bus 7 Melissa Childers Bus 8 Robert Poole Wednesday, November 18 Bus 1 Catherine Medlin Bus 3 Ronnie Medlin Bus 5 Wes Buckner Thursday, November 19 Bus 9 Kalan Roberts Bus 12 Victor Bridges Bus 14 Jamey Morrison For students that normally do not ride a bus: The following pickup locations will be where you need to check for items and or return work: Monday, November 16 Alton School Campus (by the JH Doors) from 12:00-1:00pm Rover (Shiloh Church) 4:45-5:15pm Thomasville (Thomasville School Building) 5:00-5:30pm Again, the majority of Alton R-IV students will already have the items they need to be completing school work for the AMI-X dates of November 13 through November 20, 2020.
This notification is one that I had hoped we could avoid, but the specifics of the situation have required Alton R-IV to make the decision to convert from in-person classes to AMI-X remote learning beginning November 13, 2020 and running through November 20, 2020. We now have less available bus drivers (regular and substitute) than we have routes (nine daily routes) after being notified of quarantine situations after the morning routes were completed today. We will be running staggered routes this afternoon to get all students safely home. If your child will have an earlier than normal bus arrival time at home today you have been, or soon will be, contacted with that information. All other students on buses or parent pick up or that drive themselves will dismiss at the normal time today. Due to the nature of quarantine rules and the length of quarantine requirements, this bus driver shortage will not be any different or improved any between now and November 20, 2020, and thus is the factor causing us to change to the AMI-X remote learning format starting November 13, 2020. No days will have to be added back into the calendar during this transition to AMI-X. Thanksgiving Break will be observed as scheduled from November 23-27, 2020 with campus reopening for in-person learning on November 30, 2020. TO SUMMARIZE, THERE WILL BE NO IN-PERSON CLASS ON THE ALTON R-IV CAMPUS NOVEMBER 13, 16, 17, 18, 19, OR 20, 2020. AFTER THANKSGIVING BREAK, FROM NOVEMBER 23-27, 2020, IN-PERSON CLASSES WILL RESUME ON NOVEMBER 30, 2020. While we do regret this notification, the facts of the situation make this the prudent plan of action at Alton R-IV for the next six scheduled school days. Additional information regarding packet deliveries and packet pickups for next week will be shared in the coming days. Dr. Eric Allen Superintendent, Alton R-IV

Now is a great time to feature our new JAG class. Jobs for America's Graduates (JAG) is a state-based national non-profit organization dedicated to supporting young people of great promise. Mr. Jarvis Reed has received extensive training on how to make our program a success. Our JAG students receive instruction during one class period a day on various topics such as interviewing skills, interpersonal skills, and career options. This post highlights Nathan Parker, our JAG essay contest winner. Nathan and Mr. Reed were invited to a ceremony at the Missouri State Capitol. In one particular picture, you will notice Nathan holding an ornament that the JAG class made from scratch for the First Lady, Teresa Parson, to place on her Christmas tree. We are so proud to have this program at Alton R-IV! If you would like more details on this program, please visit jag.org or Governor Parson's FB page.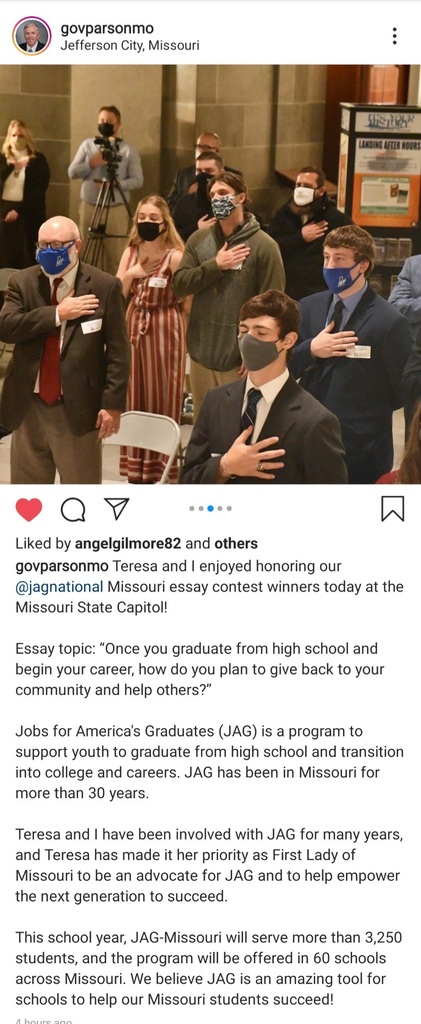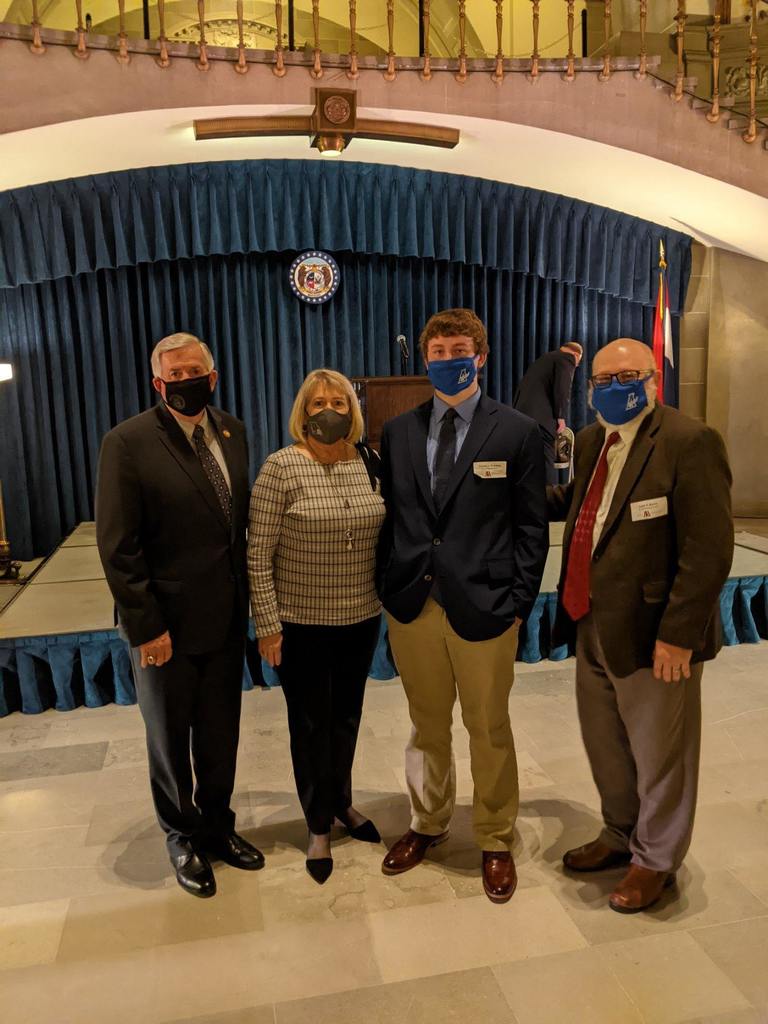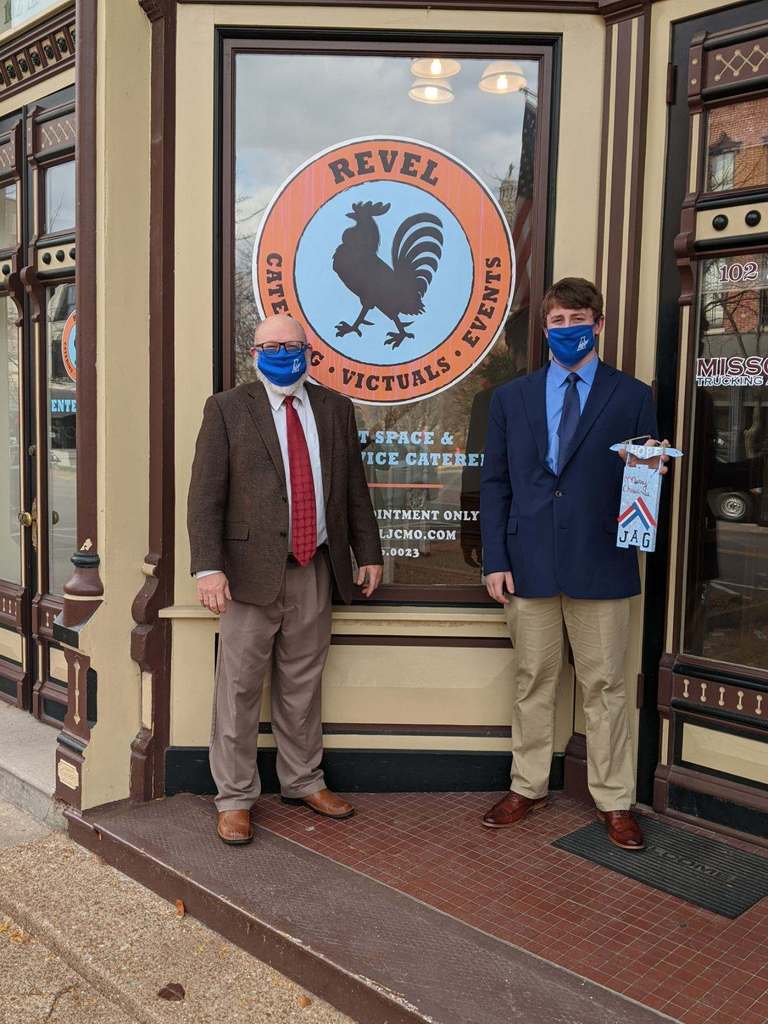 Good News------Alton R-IV has been notified by the USDA that the Seamless Summer Option (SSO) meal service format has been extended from December 31, 2020 as it was currently scheduled to run, to now be extended through the end of the academic year in May of 2021. Alton R-IV has completed all required paperwork to participate in this program through May of 2021 and every student on the Alton R-IV campus will remain eligible for free breakfast and free lunch meals on a daily basis through the end of the 2020-21 school year.
An individual that tested positive for COVID-19 was last on the Alton R-IV campus October 29, 2020. Another individual that tested positive for COVID-19 was last on the Alton R-IV campus November 6, 2020. There are a limited number of individuals with direct contact that will need to quarantine. These individuals have been contacted and provided specific guidance.
An individual that tested positive for COVID-19 was last on the Alton R-IV campus November 4, 2020. There are a limited number of individuals with direct contact that will need to quarantine. These individuals have been contacted and provided specific guidance.

Congratulations to our 2020 Alton Elementary Christmas candidates! #AltonElem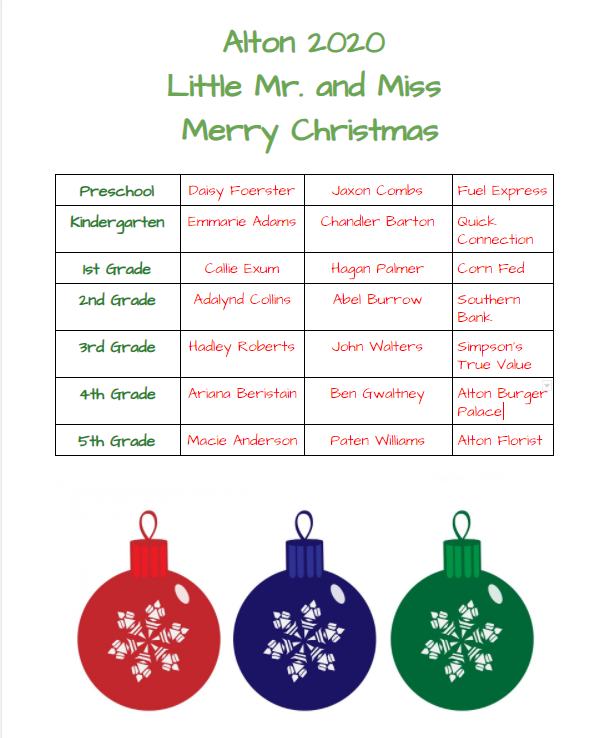 Juniors that submitted laundry soap orders will need to make arrangements to pick up their orders on Monday, November 9th after school in the high school gym. If you have any questions email
nataliemyers@alton.k12.mo.us

Don't forget Veterans Day Assembly on Wednesday, November 11th. Doors will open at 1:00pm for Veterans, family and community. The program will officially begin around 1:15pm to accommodate students watching in their classroom. Community can also watch on the district Facebook page.

As indicated in an earlier post, it's National Principals Month! We are featuring Mrs. Melinda Langston, Alton Elementary principal. Mrs. Langston has been in our district since 1997! She has received all three of her degrees from Arkansas State University. She started out at Alton Elementary as a sixth grade teacher. After many years teaching she moved to the position of Alton Elementary librarian. Mrs. Langston has held many roles in the district, including that of PDC chair and being a member of the career ladder committee. This is her fourth year as an elementary principal. She is known for her success in fundraising and is always looking for ways to make the school more inviting. She makes ALL of the students feel loved and is always willing to listen to her teachers when they are struggling. Even though Mrs. Langston resides in Arkansas, we have always felt blessed that she chooses to drive a little further to be an Alton Comet. Thank you, Mrs. Langston!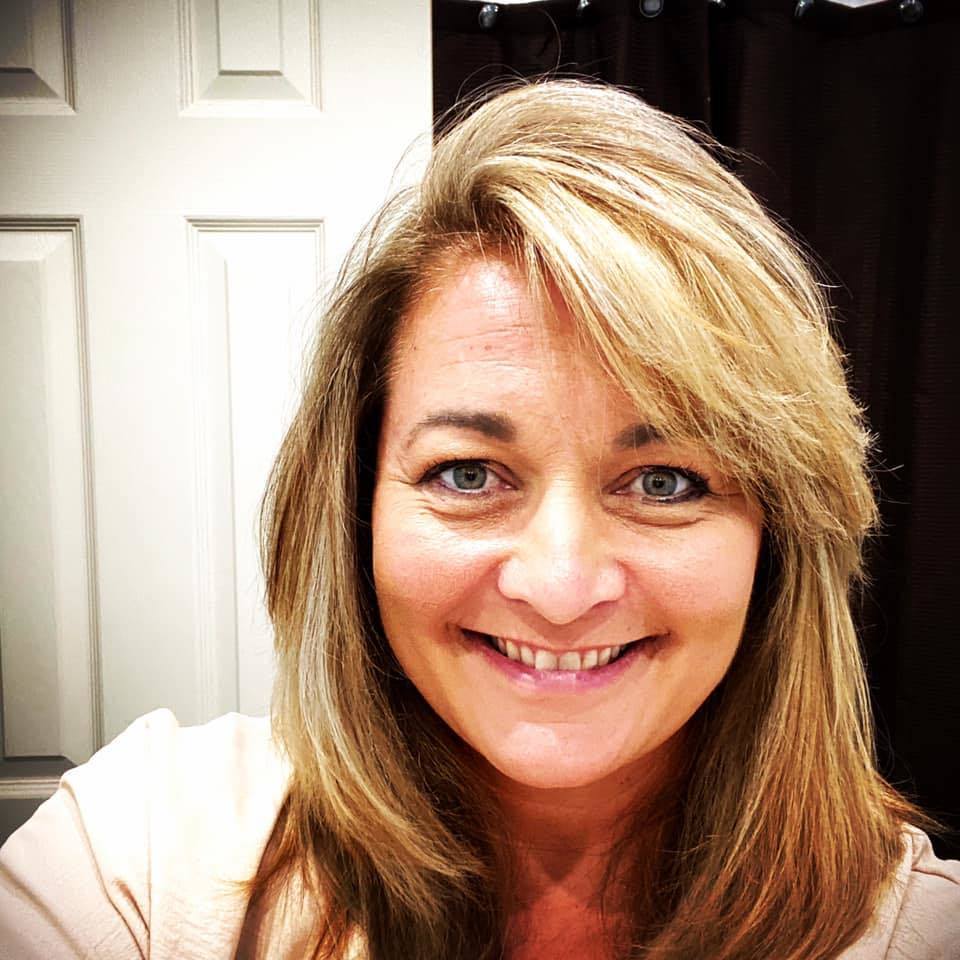 As indicated in an earlier post, it's National Principals Month! We are featuring Mrs. Stephanie Miller, Alton High School assistant principal. Mrs. Miller has been an Alton Comet since day one of Kindergarten. Graduating from Alton High in 1993, she went on to get her bachelor's degree from Arkansas State University and master's degree from William Woods University. She chose to come back to Alton to start her teaching career. Over the past 23 years, Mrs. Miller has taught JH math, PE, Health, and Alternative School. Mrs. Miller has spent many years coaching girls basketball and softball. In addition to her current position as assistant principal she is the athletic director and A+ Coordinator. Mrs. Miller spends many hours at the school. She truly wants our school to be the absolute best. She has one of the more difficult tasks in our district; handling discipline. You never hear her complain about anything and she is always eager to help. Thank you for your dedication to Alton R-IV and being a true Alton Comet!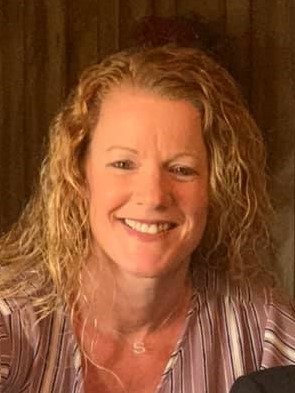 Through visionary leadership and tireless pursuit of success for each student, principals guide and support their schools in ways large and small every day. And as we faced new challenges presented by COVID-19, our principals came through when it mattered most. National Principals Month is our way of honoring their dedication and thanking them for all they've done. We are featuring Dr. Joby Steele, High School Principal. Dr. Steele has vast experience as both an educator and an administrator. He started his career at Alton High in 1993 as a social studies teacher. During the next ten years, he spent eight of them teaching and two as a high school counselor. In 2003, Dr. Steele moved to the Alton Elementary as the principal. He remained there for five years before moving to West Plains as an assistant principal for four years. Dr. Steele came back to Alton High in 2013 and has served here ever since! Dr. Steele has earned various degrees from Arkansas State University, William Woods University, and Lindenwood University. Dr. Steele is a pillar in our community. He also serves as the minister at Macedonia Baptist Church. You will find him involved in many community activities. He is known for his caring responses to individuals and his exemplary way with words. He knows just the right thing to say when someone is in need. We are very thankful to have Dr. Steele at Alton R-IV. His dedication to our school and community is appreciated. Thank you, Dr. Steele!