Make plans to attend the Map Drive-Thru Party! Thursday, April 8th between 5:00-6:00 p.m.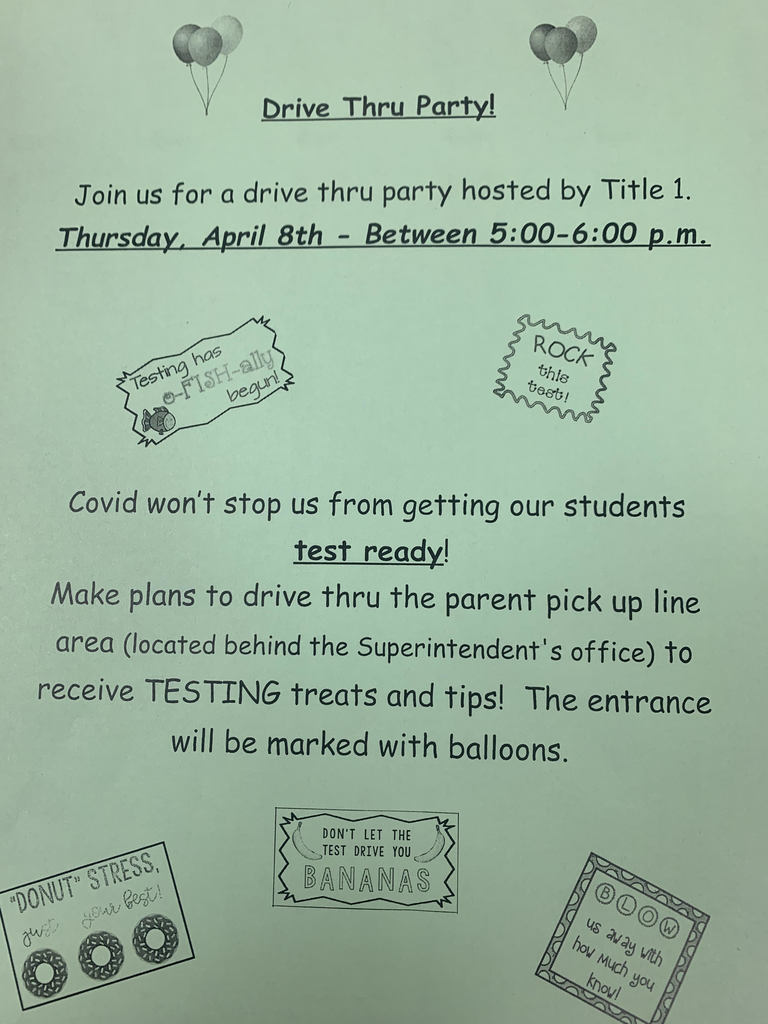 Wow! Disney Dazzle performance did not disappoint! What a great job from our 4th and 5th graders! Thank you to the performers and Mrs. Hufstedler!


#MapTesting at #AltonElem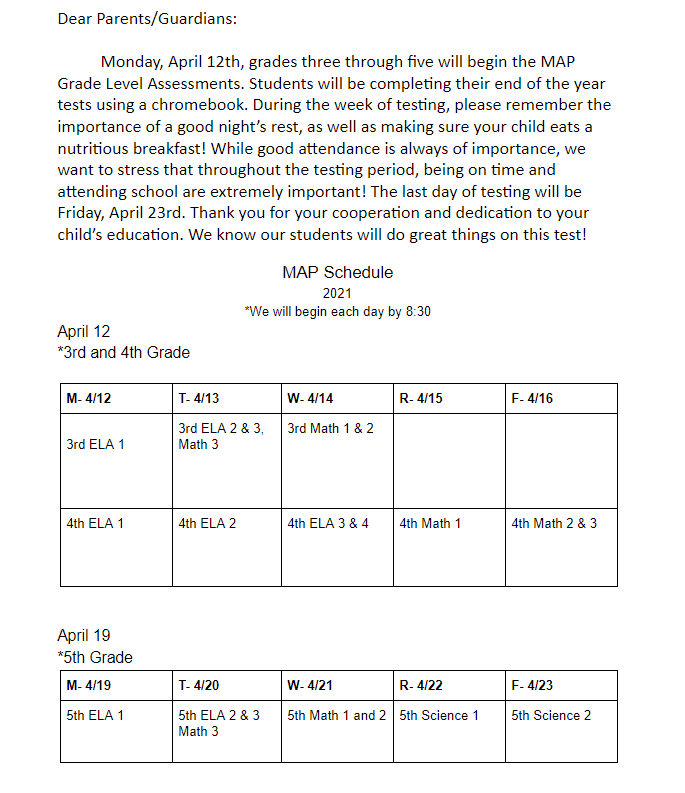 Just a reminder. Tomorrow, March 17th, FBLA is having a dress your baby doll up and bring it to school for 6th through 12th grade. There will be a prize for best dressed doll in 6-8 & 9-12. Support March of Dimes by reminding everyone how important babies are.

We are looking for snacks for our students during MAP testing. If you are a community partner for a class in grades 3-5, please contact your classroom teacher to see how you can help. We are looking for 5 days worth of snacks and the snacks need to be delivered by Friday, April 9th. We live in a great community and are forever grateful for the support our little Comets receive!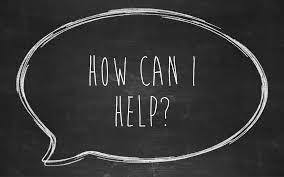 Third Quarter Grades will be sent out today via email. If you do not have an email address on file, a paper copy will be sent home with your child. Please review your child's grades. If you have questions or concerns, please contact your child's teacher or principal.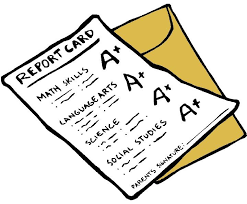 Elementary and Jr. Beta had a Virtual State Convention. The following elementary students placed -Eli Trantham 5th place in Math and Hattie Williams-5th place in BW Photography. The following middle school students placed-Macy Reeves 2nd place Lang. Arts, Chaney Janes 3rd place Lang. Arts and Shaylee Tucker 2nd place Lang. Arts. GREAT JOB!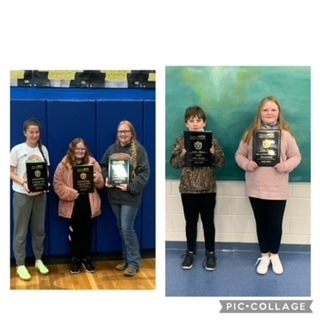 Please be advised that we are having some technical issues on campus this morning. The electricity is out at the high school and outbuildings, but Howell-Oregon is aware and on top of the situation. This has resulted in our phone systems being down and our Internet may be affected. Please be patient with us as we work through these issues.

*SENIOR PARENTS* If you purchased a senior page, but have not gotten me the pictures and message, I need those ASAP. We have a deadline with the yearbook company, and those pages have to be done in the next two weeks. I have some pages that are completely blank because we haven't received content to fill it with. Email
adrianclary@alton.k12.mo.us
with any questions or concerns.

Reminder Alton Little League sign ups are tonight in the multi-purpose building from 6-8pm. I know our high school boys play at Campbell tonight, so remember if you can't make it tonight, you can still come by the elementary office to sign up until March 5th. Money must accompany sign up form and no forms will be accepted after March 5th.

Mrs. Holesapple's class would like to thank Burger Palace for the delicious ice cream sundaes provided for their Valentine's party!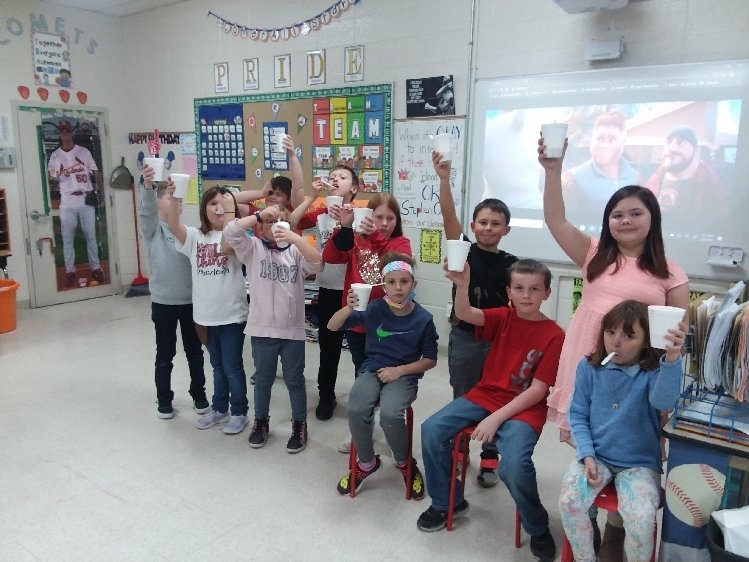 Kindergarten and Preschool Orientation will be held on Monday, March 15th from 5:00 to 6:30 in the Multipurpose Building at Alton Elementary School. Any child who will turn 5 before August 1st is eligible for kindergarten. Any child who will turn 3 before August 1st is eligible for preschool. Please bring your child's shot records, birth certificate, and proof of residency (piece of mail) with you to the orientation. In order to maintain social distancing, we ask that only one parent attends orientation. Students do not need to attend. Masks are required. Screening will be held on March 17th from 8:30-3:00. Parents will be asked to choose a screening time at orientation. If your child is currently attending preschool at Alton, screening will be done at school so a screening time will not be necessary. However, current preschool parents should still plan to attend orientation on March 15th. If you have any questions, please call Melinda Langston, Principal, or Tonya Willard, School Counselor, at 417-778-7217.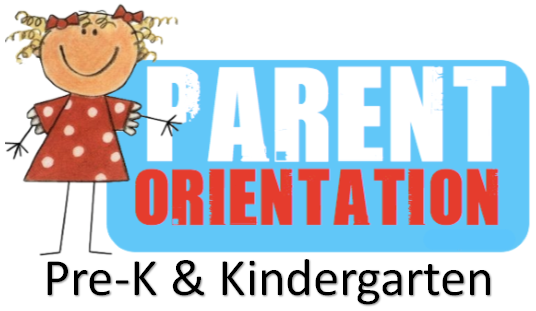 Please check the Alton Little League facebook page for updates and reminders.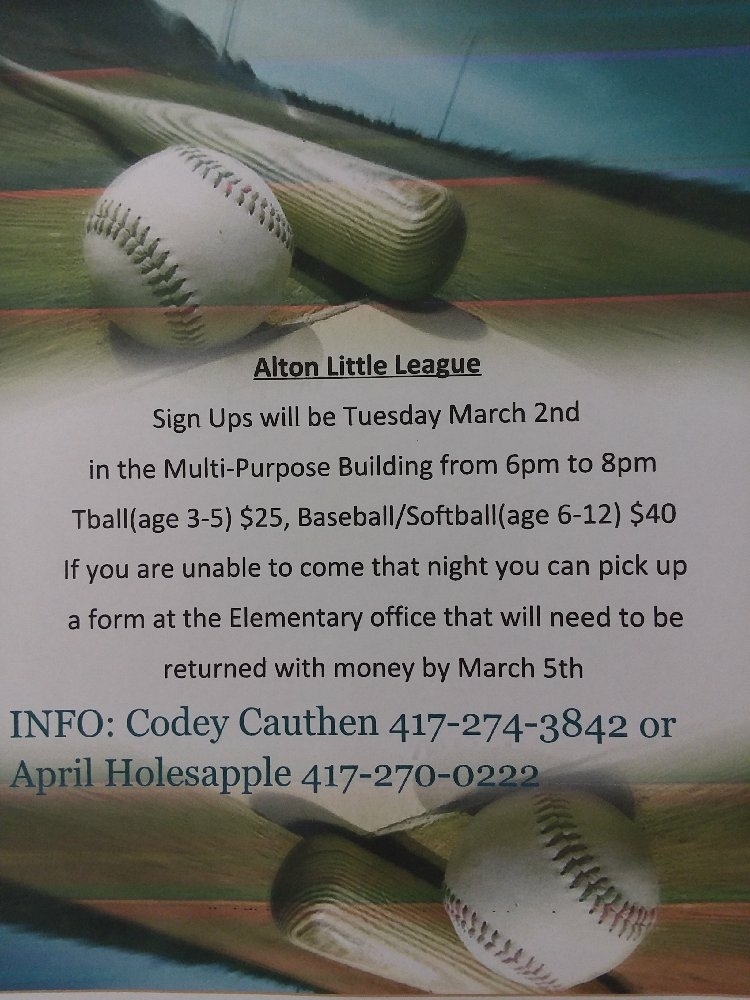 Elementary basketball pictures are rescheduled for Friday, February 26th. Please have your child wear his or her uniform to school unless their coach has told you otherwise.

Please see check the Alton Little League facebook page for updates and reminders!
Alton will be closed on February 22, 2021.

Here are the results for FBLA District Competitions. Anna Shields, wildcard and advanced to state in Insurance and Risk Management Harly Howell, 4th place in Graphic Design Jace Reese, 3rd place in Impromptu Speaking Logan Kennedy, 3rd place in Sales Presentation Congrats!
Alton will be closed on February 18 and February 19, 2021.
Alton will be closed on February 17, 2021.
Alton will be closed on February 16, 2021.