Congratulations to the recipients of Honor Awards at last night's ceremonies! It has taken hard work to earn your certificates and awards!

Best Wishes for our Scholar Bowl Team as they compete in state competition Friday! We are so proud of you!

Today's softball games have been cancelled.

"Congratulations to the Alton Scholar Bowl Team. They defeated Fordland in two matches last night in the Sectionals Tournament and will be going to State (for the first time ever) on May 6th. If you see Caleb Buffington, Joe Graves, Paul Hall, Ethan Granger, Aaron Roberts or Amber Barton today, congratulate them and wish them luck!"

GRADES 4-8: MSU – WEST PLAINS KIDS' COLLEGE to be held July 12-14 from noon to 5 p.m. This is an educational opportunity that will build upon what they have learned while exposing them to a college experience. Sessions range from building roller coasters, going on an archeological dig, developing artistic talents to entering the wonderful world of math and science principles. Cost is $75.00. Registration/Payment Deadline is Tuesday, May 31. See Mrs. Gilliland for an application.

Best of luck to the Alton Scholar Bowl team as they compete at Fordland in the Sectional Tournament at 1:30 pm TODAY!! GO COMETS!

Students take advantage of the opportunity to win one of 10 $100 Visa gift cards by participating in our #mySNSreason contest. Here are the three ways you enter the contest: 1. Tweet using #mySNSreason with their reason for taking the pledge. 2. Instagram a photo or video using #mySNSreason for taking the pledge. 3. Email at
mackenzie@missourisafeandsober.com
with #mySNSreason in the subject line. The contest is open until Friday, May 6. Only a few students have entered this year, so you have a high chance of winning!

SENIORS: Oregon County Historical Society Scholarship due August 1. See Mrs. G. for an application. Oregon County resident for 10 years.

SENIORS: Don't forget CTA and Alumni scholarship app's are due Wednesday, April 27!

Jr. High MAP Grade Level Testing begins Tuesday, April 26 and ends Monday, May 2. Be rested, eat breakfast, and be on time!

SENIORS: ROTARY SCHOLARSHIP IS DUE TODAY, FRIDAY, APRIL 22. TURN IN ASAP TODAY!

Results of Ava Track Meet 4x800 Relay -6th place Devin Clary, Andy Sisco, Devin Harvey, Mason Cockrum 4x800 Relay- 3rd place Baylee Sisco, Lauren Sisco, Alexis Campbell, Heaven Jackson Long Jump Boys -1st place Mason Cockrum 1600 Meter Run Girls - 3rd place-Lauren Sisco 8th place- Alexis Campbell 100 Meter Dash- 2nd place Mason Cockrum 400 Meter Dash Boys 7th place -Andy Sisco Girls 7th place -Baylee Sisco 6th place -Alexis Campbell 3200 Meter Run - Boys 3rd place- Devin Clary Girls 3rd place -Lauren Sisco

ALL HIGH SCHOOL STUDENTS: Take a chance to win a scholarship or other prizes. Enter the Dave Ramsey Financial Literacy Challenge by Monday, April 25 at
www.daveramsey.com/challenge
.

SENIORS: ALTON ALUMNI SCHOLARSHIP - DUE NEXT WEDNESDAY. SEE MRS. G. FOR AN APPLICATION!

Congratulations to Mrs. Amanda Vinson for being nominated for Regional Teacher of the Year for 2016-2017. The program is designed to focus public attention on excellence in teaching and to honor classroom teachers in all regions of Missouri. We are very proud of you!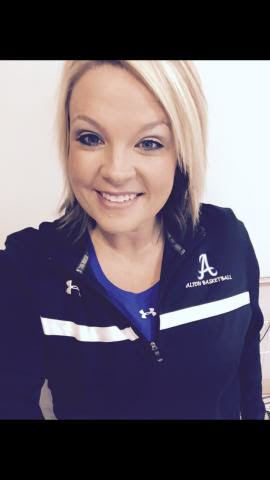 Junior High BSC Championship baseball game has been moved to Friday, April 22, at 5:30 pm.

Congratulations to the Alton High School Scholar Bowl Team on the 1st Place win at the District Tournament!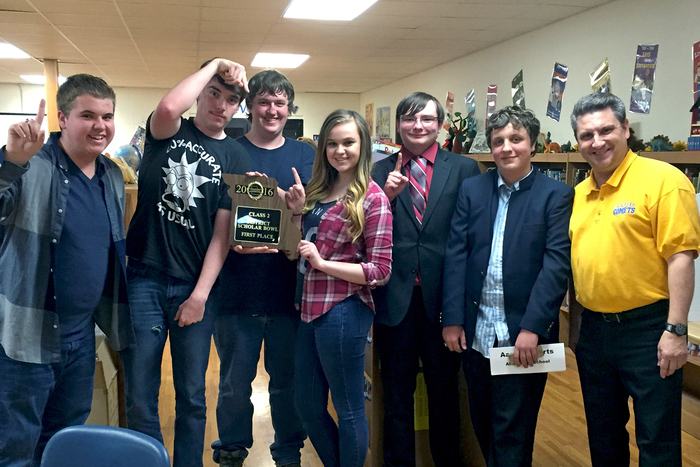 The other Future Feud Team! Not quite sure, but they seem to be doubting one another!

Future Feud Teams at the MSU - West Plains Extravaganza held on April 13th at Alton High School! Pretty sure they knew the answer!

JUNIORS: ACT TESTING TUESDAY, APRIL 19 @ 8:00 AM! DON'T BE LATE!